Positively Positive - Living with HIV/AIDS:
HIV/AIDS News Archive - September 2008


ONE MILLION TESTS
WORLD AIDS DAY 2008
Sign Up and Join the Effort!
The World AIDS Day 2008 Global Testing Campaign, organized by AIDS Healthcare Foundation, in coalition with hundreds of global partners, is mobilizing non-governmental organizations (NGOs), local and national governments, international relief agencies, faith-based organizations, civil society, the media, and YOU to conduct ONE MILLION Free HIV Tests during an extended World AIDS Day week commencing on November 26th and culminating on December 1st.

Streamlined Process Announced for Otherwise Eligible HIV-Positive Individuals to Enter the United States
Fact Sheet: Streamlined Process Announced for Otherwise Eligible HIV-Positive Individuals to Enter the United States
September 29, 2008 - The U.S. Department of Homeland Security (DHS) announced today the publication of a final rule that will streamline the issuance of certain short-term non-immigrant visas to people infected with the Human Immunodeficiency Virus (HIV) who are otherwise qualified to enter the United States.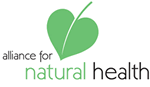 Scientific and Legal Emergency Response Task Force Established to Address International Natural Health Crisis
Toronto, Canada - On the heels of the recent attempts to severely restrict and further regulate natural supplements and remedies through legislative Bill C-51 in Canada, the increased concerns regarding the US Food and Drug Administration's revisions of the cGMP (Current Good Manufacturing Practices regulations) and ongoing concerns over the severely restrictive European regulatory regime on natural health products, an unprecedented two-day conference concluded last Friday with the formation of an international scientific and legal task force. The mandate given to the task force was to intervene strategically to preserve the public's right and access to natural health, including vitamin and mineral supplements, traditional herbal medicines and the healing arts.



AHF Calls on Iran to Release Two Respected AIDS Physicians Held Since June
Dr. Kamiar Alaei and Dr. Arash Alaei-Two Brothers Internationally Known for their Work on HIV/AIDS-Have Been Detained Without Charge By Iranian Officials Since June 2008 US' Largest AIDS Group Joins International Call to Press Iranian President Mahmoud Ahmadinejad, Who is to Speak Today at the UN General Assembly in New York, to Compel Iran to Immediately Release Respected AIDS Doctors



Farha Foundation's AIDS Walk Exceeds Expectations
More than 10,000 walkers raise more than $352,000
MONTREAL, QUEBEC -(Marketwire - Sept. 21, 2008) - Walking for those living with AIDS, for those who have died of AIDS, and for a future without AIDS, more than 10,000 participants took part today in CA MARCHE, the Farha Foundation's annual AIDS walk. Calling on the citizens of Quebec, politicians and celebrities alike, the 16th annual walk raised over $352,000.



A uniquely Canadian look at AIDS2008
In August, the world gathered at the XVII International AIDS Conference in Mexico City to reflect upon the impact HIV is having around the planet.
To get a uniquely Canadian perspective of AIDS2008, CATIE asked five Canadian delegates to share their experiences. We also asked photographer and long-time activist Jake Peters to record the event in images.
Read more...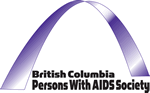 HIV Now!
Current information and strategies for gay men recently diagnosed with HIV
Gay men that are newly diagnosed with HIV are invited to join their peers for a series of workshops to empower them to learn about, live with, and overcome the challenges of HIV.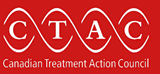 National HIV/AIDS Treatment Group Challenges All Parties to Establish a Catastrophic Drug Plan
Canadian Treatment Action Council (CTAC) Supports Campaign Promise as Good Medicine for all Canadians Living with Life Threatening and High Cost Disabilities
September 16, 2008 -Toronto: The Canadian Treatment Action Council (CTAC) is a national non-governmental organization serving the needs of people living with HIV/AIDS. CTAC promotes informed public policy and builds awareness on issues that impede access to treatment and health care for people living with HIV/AIDS.
Un groupe national de défense du traitement du VIH-sida met tous les partis au défi d'établir un régime de prise en charge des médicaments onéreux
Le Conseil canadien de surveillance et d'accès aux traitements (CCSAT) voit en cette promesse électorale de meilleurs soins pour les personnes vivant avec des maladies qui mettent leur vie en danger et qui coûtent très cher à soigner
Le 16 septembre 2008 -Toronto : Le Conseil canadien de surveillance et d'accès aux traitements (CCSAT) est un organisme national non gouvernemental qui répond aux besoins des personnes vivant avec le VIH-sida. Le CCSAT fait la promotion de politiques publiques éclairées et de l'éducation du public, en plus de favoriser la sensibilisation aux enjeux qui touchent l'accès au traitement et aux soins de santé des personnes vivant avec le VIH-sida.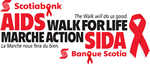 Scotiabank AIDS Walk for Life 2008: Moving from Chaos to Clarity
OTTAWA, September 10, 2008 - Support the movement from chaos to clarity by joining the 2008 Scotiabank AIDS Walk for Life! The annual Walk in support of community programs and services for people living with HIV/AIDS will be held in communities across Canada from September 14 - 21.
La Marche action sida Banque Scotia 2008 : du chaos à la clarté
OTTAWA, 10 septembre 2008 - Appuyez le changement, du chaos vers la clarté, en participant à la Marche action sida Banque Scotia 2008! Ce marchethon annuel au profit des programmes et services pour les personnes vivant avec le VIH/sida aura lieu dans de nombreuses communautés aux quatre coins du Canada, du 14 au 21 septembre 2008.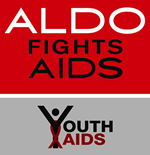 ALDO Introduces the Latest 'ALDO Fights AIDS' Product
ALDO Continues the Fight Against AIDS with their 'Love for Life' Limited Edition Bracelets
MONTREAL, Sept. 4 /PRNewswire/ - ALDO, a global fashion footwear and accessories brand, in partnership with YouthAIDS, an HIV/AIDS education and prevention program of the global health organization PSI, will continue their fight against AIDS by offering "Love for Life" bracelets.

'THE CHILD WITHIN'
The Strategies for Hope Trust is pleased to announce the publication of 'The Child Within: connecting with children who have experienced grief and loss'. This 68-page workbook, containing numerous illustrations, was developed in collaboration with Masangane ('to embrace' in Xhosa), an orphan care project supported by the Moravian Church in South Africa's Eastern Province.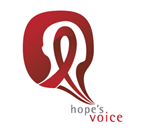 Hope's Voice International Executive Director Todd Murray Honored by HIV Plus Magazine
September 3, 2008 - In honor of the 10th year, HIV Plus honored their 10 most-admired leaders in the September 1st issue.




Visual AIDS - September Web Gallery curated by Frank Spinelli MD
September 2008
VISUAL AIDS and THE BODY announces NEW WEB EXHIBITION
Sex, Drugs and Religion curated by Frank Spinelli, M.D.

Canadian and African Grandmothers Rally to Fight HIV/AIDS
Ottawa. High profile guests from Swaziland will join Canadian grandmothers and "grandothers" on Parliament Hill to remind our leaders and all Canadians of our promises to continue the fight against HIV and AIDS in Africa
WHEN: Saturday September 6 (Grandparents Weekend)
WHERE: Meet at Supreme Court 12:30. Rally on Parliament Hill 1:00
"We are thrilled to have two special guests from Africa join us in the event," says Peggy Rasmussen, Chair of the Ottawa/Gatineau Grandmothers Network Regional Planning Committee. Grandmother Ncobile Nester Nxumalo and Siphiwe Hlope, both from Swaziland will join the rally in Ottawa on September 6.

====================================