Positively Positive - Living with HIV/AIDS:
HIV/AIDS News Archive - August 2012

Fong shares passion for food and Dr. Peter Centre
August 31, 2012 - Ninth annual Passions event set for Sept. 9
What began as a small charity cooking class held at Barbara-Jo's Books to Cooks has become one of the city's must-attend gastronomic galas. Organized by acclaimed food scribe and stylist Nathan Fong, the inaugural Passions event in 2002 was attended by several dozen guests and raised a couple thousand dollars for the Dr. Peter Centre. Under Fong's continued stewardship, Passions has since tripled in size becoming one of Vanhattan's most popular go-to events.
Read more...
Infectious complications of Bio-AlcamidŽ filler used for HIV-related facial lipoatrophy
August 31, 2012 - This retrospective study identified patients who had received treatment with Bio-AlcamidŽ and reviewed their long-term outcomes.
Read more...


LATINO SOCIAL SERVICES CENTER SERVING LGBT, HIV/AIDS AND AT-RISK COMMUNITIES UNLAWFULLY EVICTED FROM VAN NUYS LOCATION 48 HOURS AFTER OPENING ITS DOORS.
LOS ANGELES, CA [August 31, 2012] - BIENESTAR, a Southern California-based social services organization primarily serving the Latino LGBT, HIV/AIDS and at-risk communities, files discrimination suit after a Van Nuys landlord who entered into a lease agreement with BIENESTAR illegally terminated the lease and changed the locks, saying BIENESTAR was "bringing disease" to the building. BEINESTAR seeks court order for immediate access to its property and files.

Backlash Over Gilead's New HIV Drug Begins
August 30, 2012 - Let the battle begin. As soon as Gilead Sciences announced that the price for its newly approved Stribild HIV medication - a once-daily combination pill - would be $28,500 annually, some AIDS activists threatened to take action to find a way to lower the cost. Now, the AIDS Healthcare Foundation is angling to place a referendum in front of San Francisco voters to require city officials to hold talks with drugmakers about pricing for 'essential medicines.'
Read more...
Massive increase of hepatitis C incidence in HIV-positive gay men in Switzerland
30 August 2012 - Incidence of hepatitis C virus infections has increased eighteen fold in HIV-positive gay men in Switzerland since 1998, investigators report in the online edition of Clinical Infectious Diseases. Half of all infections in gay men occurred between 2008 and 2011. In contrast, incidence of hepatitis C fell in HIV-positive injecting drug users and remained stable in HIV-positive heterosexuals.
Read more...
New HIV/AIDS registry to help answer key questions
29-Aug-2012 - Database 1 of the first focus on rural areas
A new community-based HIV/AIDS registry, one of the first in the nation to include patients from rural areas, will provide a unique opportunity to find answers to myriad medical questions, from the impact of drugs such as marijuana on the virus to why some patients naturally ward off the disease.

Researchers pioneer world's first HIV/AIDS nanomedicines
29-Aug-2012 - This project is the first step towards taking the nanomedicine options that we have developed out of our labs and into the clinic, representing a significant milestone in the development of new HIV treatments.



HIV-Positive Men Should Test 'Free' Testosterone Levels
August 28, 2012 - To check whether an HIV-positive man's sex glands produce too little testosterone-a condition called male hypogonadism-doctors must look at morning blood draws and levels of "free" testosterone, according to a study by Johns Hopkins University investigators presented in July at the 14th International Workshop on Comorbidities and Adverse Drug Reactions in HIV, held in Washington, DC.
Read more...
Enlisting the AIDS Virus to Fight Cancer
ScienceDaily (Aug. 28, 2012) - Published in PLoS Genetics on 23 August 2012, these findings could lead to long-term therapeutic applications in the treatment of cancer and other pathologies.
Read more...
Attachment inhibitor BMS-663068 does well in early study involving HIV-positive people
28 August 2012 - Treatment with BMS-663068, an experimental HIV-1 attachment inhibitor, achieves substantial reductions in viral load and has only mild side-effects, results of an eight-day study published in the online edition of the Journal of Infectious Diseases show.
Read more...


AAP CIRCUMCISION POLICY 'SERIOUSLY FLAWED', CONDEMNED BY CANADIAN CHILDREN'S RIGHTS GROUP
27 August 2012 - Guest also faults the AAP for relying on methodologically weak African trials claiming HIV is lower in circumcised men. He says the studies also contradict global HIV trends, citing the United States, with a high circumcision rate, yet a significantly higher rate of HIV infection than Sweden and Japan where circumcision is rare.

Benefits of circumcision outweigh risks: Pediatrics group
CHICAGO, Aug 27 (Reuters) - The change was prompted by scientific evidence that suggests circumcision can reduce the risk of urinary tract infections in infants and cut the risk of penile cancer and sexually transmitted diseases, including HIV and the human papillomavirus or HPV, which causes cervical and other cancers.
Read more...
Notorious 1987 AIDS ad returns in gentler reincarnation
August 26, 2012 - THE Grim Reaper has been resurrected to star in a new advertisement aimed at rebooting AIDS awareness.

Grandmothers Ride to Turn the Tide against the HIV/AIDS family crisis in Africa
August 24, 2012 - The "Grassroots Grannies" are riding to help raise awareness and funds for the Stephen Lewis Foundation "Grandmothers to Grandmothers" campaign, to support African grandmothers in their struggle to raise their orphaned grandchildren whose parents have died as a result of HIV/AIDS.
Read more...
Glucose metabolism worsens in HIV treatment-experienced taking NRTI-sparing regimens
24 August 2012 - Italian investigators have found evidence of worsening glucose tolerance in highly treatment-experienced HIV-positive patients treated with nucleoside-sparing regimens. The small study, which is published in the online edition of AIDS, monitored the glucose metabolism of 39 patients over three years.
Read more...


Hike, Ross, Hike!
August 23, 2012 - Ross Hayduk, an inspiring friend to - and volunteer of - the National AIDS Memorial Grove, is embarking on an incredible journey.

AIDS pill's price tag draws criticism
Aug 23, 2012 - Federal regulators are expected next week to approve Gilead Sciences Inc.'s new AIDS medication - a four-in-one drug combination pill called Quad, which some lawmakers and health advocates say may be too costly to consumers.
Read more...


In the war on HIV, Africa cannot rely on donors alone
23 August 2012 - Africa's contribution to HIV/AIDS vaccine research remains low, despite the continent bearing the heaviest burden of the disease.
Read more...
Starting HIV treatment reduces risk of kidney disease
23 August 2012 - Starting HIV treatment reduces the risk of chronic kidney disease, US investigators report in the online edition of AIDS. This was especially the case for patients who experienced robust increases in their CD4 cell count and falls in their viral load.
Read more...


NIH Researchers Find Possible Cause of Immune Deficiency Cases in Asia
Aug. 22, 2012 - Autoantibody May Cause Susceptibility to Opportunistic Infections
WHAT: A clinical study led by National Institutes of Health investigators has identified an antibody that compromises the immune systems of HIV-negative people, making them susceptible to infections with opportunistic microbes such as nontuberculous mycobacteria (NTM).

Defined by Words, Not by a Disease
August 22, 2012 - TWENTY years ago this month, Mary Fisher took the stage of the Republican National Convention at the Houston Astrodome and delivered a 13-minute prime-time speech that was seen by many as a sharp rebuke of her party's negligence in the face of the growing AIDS epidemic.
Read more...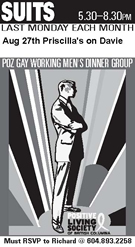 Suits Dinner - August 27th
Priscilla's - 1047 Davie Street
SUITS - POZ WORKING MEN'S DINNER GROUP
Welcome to Priscilla's Restaurant home of great Pizza, Greek and Italian food since 1967.



UCSF Continues AIDS Blog
August 22, 2012 - In light of ongoing interest on the topic, this blog will continue to be updated to explore the latest developments in clinical care and research, offer perspective on the local and global problems associated with HIV, explore the role of activism in AIDS and examine the quest for a cure.
Read more...


Food Insecurity Increases Hospital Use by HIV-Positive Urban Poor in San Francisco
August 22, 2012 - UCSF researchers found that poor HIV-infected individuals living in San Francisco are significantly more likely to visit emergency rooms and to have hospital stays if they lack access to food of sufficient quality and quantity for a healthy life.
Read more...


CTAC OPEN HOUSE
The Canadian Treatment Action Council would like to invite you to the CTAC OPEN HOUSE
Monday, August 27 th , 2012 4:00 to 6:00 pm
at 555 Richmond Street West, Suite 612



Eight Million People Now Being Treated for HIV
August 22, 2012 - The Joint United Nations Program on HIV/AIDS released a report before the AIDS conference. The report is called "Together We Will End AIDS." It says almost one point four million people were added to the number of people receiving treatment in last year alone.
Read more...


Research Offers New Hope for HIV/AIDS Patients with Cancer
21 August 2012 - Proposed Treatment for Herpes Virus that Causes Kaposi's Sarcoma Receives Translational Research Funding
A CD4 cell count below 500 cells/mm3 and a detectable viral load are risk factors for herpes zoster (shingles) in HIV-positive people, US investigators report in the online edition of the Journal of Acquired Immune Deficiency Syndromes. Complicated herpes zoster was common and was associated with a very low CD4 cell count.
Read more...
AIDS Pandemic can be Stopped, says Stephen Lewis
August 21, 2012 - In a fiery and moving address to the CAW Convention, iconic human rights activist Stephen Lewis said that the AIDS pandemic has not yet been stopped because of mass government complacency, inaction and disinterest.
Read more...
Detectable viral load and low CD4 cell count are risk factors for shingles in HIV-positive people
21 August 2012 - A CD4 cell count below 500 cells/mm3 and a detectable viral load are risk factors for herpes zoster (shingles) in HIV-positive people, US investigators report in the online edition of the Journal of Acquired Immune Deficiency Syndromes. Complicated herpes zoster was common and was associated with a very low CD4 cell count.
Read more...
HIV home testing kits prove their worth
20-Aug-2012 - Study finds HIV home test is popular among men with high risk sexual practices
Thirty years into the HIV epidemic, many people who are at high risk of HIV infection cannot or will not adopt safer sexual practices, such as abstinence and condom use.

Three-quarters of clinicians in the US willing to prescribe early HIV treatment for the purpose of prevention
20 August 2012 - There is an overwhelming consensus among clinicians who prescribe HIV treatment in the US that people who are taking antiretroviral therapy are less likely to transmit HIV to their sexual partners, according to results of a study published in the online edition of the Journal of Acquired Immune Deficiency Syndromes.
Read more...


No longer a fight, it's a war against HIV/AIDS
Aug. 19, 2012 - The Caribbean has over 240,000 cases of HIV and AIDS with the major countries being affected obviously amongst the larger ones, including Haiti, the Dominican Republic, Jamaica, Trinidad and Tobago, Cuba, and The Bahamas. In fact, about three per cent of the population of The Bahamas are living with HIV/AIDS.
Read more...
Lower seminal viral load and hints of long-term viral control seen in Thai HIV vaccine recipients
17 August 2012 - Men who received the Thai RV144 vaccine who nonetheless became infected with HIV had lower viral loads in their semen than men who received placebo, a new analysis of the vaccine study reports in the Journal of Infectious Diseases.
Read more...
Conservatives have done little to combat AIDS, but there are opportunities
Aug. 17 2012 - From the first possible moment, Mr. Harper and his government have demonstrated a mystifying ambivalence in responding to a challenge that has cost the lives of many millions and, despite dramatic progress, threatens millions more.
Read more...

Gay Ugandans: Loud and Proud by Val Kalende
NEW YORK, 16 August 2012 - A former writer for a national newspaper in Uganda and once jailed for campaigning for the inclusion of LGBT people in Uganda's national HIV/AIDS programs, Val provides updates and commentaries on the notorious anti-homosexuality bill, still being debated by the Ugandan government.



CDC Now Recommends All Baby Boomers Receive One-Time Hepatitis C Test
August 16, 2012 - New approach will help avert major increases in liver disease and deaths in the U.S.
All U.S. baby boomers should get a one-time test for the hepatitis C virus, according to final recommendations published today by the Centers for Disease Control and Prevention. One in 30 baby boomers - the generation born from 1945 through 1965 - has been infected with hepatitis C, and most don't know it.

Ottawa Public Health picks clear message for condom awareness campaign
Aug. 16, 2012 - OTTAWA - The winning design in Ottawa Public Health's condom-awareness logo contest is a simple one that reflects the need to talk about safe sex, says its designer.
Read more...
TPAN program for HIV prevention in serodiscordant couples
Chicago, Illinois, August 16, 2012 - PAN (Test Positive Aware Network) today received a $10,000 grant from The Gibbs Family Foundation in support of our innovative and new HIV Prevention Initiative for serodiscordant couples (Serodiscordant couples are those individuals in a relationship in which one partner is HIV-positive and the other HIV-negative).
Read more...
South Africa: Nurses as Effective as Doctors in Treating HIV Patients
15 August 2012 - Nurse-centred care of HIV patients can be just as safe and effective as care delivered by doctors and has a number of specific health benefits, according to a new study led by the University of Cape Town (UCT) and University of East Anglia (UEA).

B.C. leading the way to end HIV transmission
Aug. 15, 2012 - B.C. is the only province in Canada witnessing a significant decline in new HIV diagnoses, and experts say a local strategy emphasizing treatment as prevention could eliminate transmission of the disease if everyone was tested.
Read more...


This Positive Life: In the Midwestern U.S., Forming a New Life
August 14, 2012 - Though it happened 26 years ago, Tommy Chesbro remembers his HIV diagnosis -- and the circumstances that led to it -- like it was yesterday. In 1986, a positive HIV test meant something fundamentally different than it does today: It meant, in short, that it was time to start planning for death. So Tommy got ready.
Read more & Watch Video...
Hard drugs just minutes away for Vancouver users, study finds
Aug. 14, 2012 - Vancouver - The study, from the B.C. Centre for Excellence in HIV/AIDS, looked into how accessible substances such as heroin, crack, cocaine, crystal meth and marijuana were to 330 youths aged from 14 to 26.
Read more...


HOW TO SURVIVE A PLAGUE - Official Trailer
Aug 13, 2012 - HOW TO SURVIVE A PLAGUE is the story of the brave young men and women who successfully reversed the tide of an epidemic, demanded the attention of a fearful nation and stopped AIDS from becoming a death sentence.



Major Gaps in Access to Care Are Impeding Progress in Reducing HIV/AIDS
WASHINGTON, DC (August 13, 2012) - HIV Specialists Meet to Identify Unmet Needs of Those at Greatest Risk
According to the latest estimates, of the 1.2 million Americans who now live with HIV, more than 200,000 don't know they are infected and as many as 850,000 that received an HIV diagnosis (72%) don't have the virus under control.

Stigma of HIV keeps thousands silent about their status
August 13, 2012 - More than one in five Massachusetts residents living with HIV reported that they "work hard" to keep their infection status a secret from everyone, and nearly half said that they had not revealed their status to anyone outside of immediate family, according to a 2009 study conducted by Harvard Law School's Health Law and Policy Clinic.
Read more...
UBC researcher hopes to take the stigma out of HIV testing
8/12/12 - "We're trying to take the stigma out of the equation," explains Dr. Julio Montaner, director of the B.C. Centre for Excellence and head of the AIDS division in the UBC Faculty of Medicine. "We no longer want to target HIV testing to people who are at risk, because we've done that already. We want to confirm that 99+ per cent of society is negative, but help those who don't know their status or are unsuspecting and help them get access to proper treatment."

Risk assessment
August 11, 2012 - Since HIV is no longer a death sentence, should the law still make it illegal for someone with the disease to keep that information from a sexual partner? With the Supreme Court set to answer that question this fall, NOREEN FAGAN examines the implications for society and those with HIV.
Opponents of the non-disclosure laws claim that HIV is a public health issue and not a criminal one. Burtch and Hoe agree. For them, being HIV-positive is about dealing with a disease that still could kill them and that is seen by some as socially unacceptable. Criminalization of HIV further complicates their lives, they believe, without bringing substantial benefits to society.
Read more...


You Can Be Heard, Without Feeling You Have to Disclose Your HIV Status
August 10, 2012 - During the opening plenary at AIDS 2012 Phill Wilson, President and CEO of the Black AIDS Institute, delivered a highly passionate and inspiring speech to help kick off the conference. During his speech he called for all people living with HIV to reveal their status to help end HIV stigma.
Read more...



The 9th annual "Passions" event at the Dr. Peter Centre is just a month away!
On September 9th, two dozen of Vancouver's top restaurants & chefs will come together for an unforgettable evening of food and wine to benefit the Dr. Peter AIDS Foundation. Proudly presented by Scotiabank, Passions - a Benefit for the Dr. Peter AIDS Foundation, is one of the city's most sought-after events for food and wine lovers. This year, Passions continues the tradition with another unforgettable night on September 9, 2012 at the Dr. Peter Centre, from 5pm to 9pm.



VANCOUVER PRIDE PARADE 2012 PART 3
Aug 9, 2012 by butchnews - Butch News Video Pride 2012 Vancouver Parade part 3 of 3 by Terry David Silvercloud
Part 3 of 3. Vancouver Pride Parade 2012, 5 August. A hot and sunny day as thousands come out in support of Pride 2012.

People with HIV fear unfair treatment in courts
08.09.12 - WASHINGTON, DC - Nearly half of HIV-positive respondents to a recently released survey on HIV criminalization say they believe they will not receive a fair hearing in the criminal justice system if they ever face charges for failing to disclose their status to sexual partners.



CDC No Longer Recommends Oral Drug for Gonorrhea Treatment
August 9, 2012 - Change is critical to preserve last effective treatment option
In the past, gonorrhea has developed resistance to every antibiotic recommended for treatment, leaving the cephalosporins, which include cefixime and ceftriaxone, as the final recommended class of drugs. In light of this history and the recent lab data, CDC researchers are concerned that continued use of cefixime may prompt gonorrhea to develop resistance to all cephalosporins. Limiting the use of cefixime now may help preserve ceftriaxone as a treatment option for a little longer.



Are There Gender Differences in Anti-HIV Drug Efficacy?
New Rochelle, NY, August 9, 2012 - Women comprise nearly half of the HIV-infected population worldwide, but these 15.5 million women tend to be under-represented in clinical trials of anti-HIV drug therapies. The U.S. Food and Drug Administration (FDA) has created a database from 40 clinical studies to assess gender differences in the efficacy of antiretroviral treatments. The results of this study are presented in an article in AIDS Patient Care and STDs, a peer-reviewed journal from Mary Ann Liebert, Inc., publishers.



Dr. Peter AIDS Foundation - PASSIONS 2012
SUNDAY, SEPTEMBER 9, 2012
A benefit for the Dr. Peter AIDS Foundation
Doors open at 6:00pm
Live auction begins at 8:15pm
Silent auction closes at 8:15pm

Potential drug molecule shows enhanced anti-HIV activity
August 9, 2012 - Researchers from Munich and Naples have shown that minimal modification of a synthetic peptide with anti-HIV activity results in a new compound with more than two orders of magnitude higher binding affinity to the chemokine receptor CXCR4 and greatly improved anti-HIV activity. This could be a step toward the design of new, more effective drugs against AIDS, inflammatory diseases, and some forms of cancer.
Read more...


CDC: HIV prevention pill for heterosexuals at risk too
August 09, 2012 - ATLANTA - The government previously advised doctors to give the once-a-day pill Truvada to high-risk gay and bisexual men only. However, more than a quarter of new HIV cases each year are heterosexuals, according to the Centers for Disease Control and Prevention.
Read more...


VANCOUVER PRIDE 2012 PARADE PART 2 of 3
Aug 8, 2012 by butchnews - 5 August, 2012 Vancouver Pride Parade Part 2 of 3
Video by Terry David Silvercloud (Butch) Butch News



Novel Vaginal HIV Microbicide Ring Enters Large-Scale Clinical Trial
August 8, 2012 - A new clinical trial of a novel drug-infused vaginal microbicide ring to prevent male-to-female transmission of HIV has opened in 17 clinical trials sites in five African countries, according to a National Institutes of Health news announcement and additional details discussed during a press conference at the XIX International AIDS Conference (AIDS 2012) in Washington, DC.
Read more...
Criminalizing the HIV-Positive Community
08/08/2012 - Despite a spate of good news for the eradication of HIV -- the FDA's approval of Truvada to prevent its transmission, the Supreme Court decision upholding the Affordable Care Act and thus retaining the ACA's great benefits for those living with HIV, and the lifting of the HIV/AIDS travel ban that allowed the International AIDS Conference to take place in Washington, D.C. last month -- there are still countless jurisdictions in which it is essentially a crime to be a sexually active HIV-positive man.
Read more...
Q&A: Dab Garner and HIV activism
August 7, 2012 - It started in 1981. I was living in San Francisco. My best friend started getting splotches on his skin. When they finally diagnosed the purple splotches as Kaposi's sarcoma, he was given the GRID (gay-related immune deficiency) diagnosis and put into quarantine. [During the early years of the HIV/AIDS epidemic, AIDS was called GRID because of its high prevalence among gay men.] I was 18, and it hurt me that I couldn't visit my friend.
Read more...
Combination prevention approach could have a big impact on HIV epidemic in China
07 August 2012 - Increasing rates of HIV testing or expanding the use of antiretroviral therapy will not be enough to eliminate new HIV transmissions in China, according to a mathematical model published in the online edition of AIDS.
Read more...


VANCOUVER PRIDE 2012 PARADE PART 1 OF 3
Aug 6, 2012 by butchnews - Vancouver Gay Pride Parade 5 August, 2012
ay Pride Parade 2012, Vancouver, August 5th, 2012. Entire parade part 1 of 3. This is the entire parade from start to finish in high definition... watch in 1080.



What Do U.S. Women at Risk for HIV Think About PrEP?
August 6, 2012 - Most U.S. women at risk for HIV are unaware of PrEP-pre-exposure prophylaxis, which entails taking daily meds to prevent HIV-but they view it as an option that should be available to all sexually active women.
Read more...
Why The AIDS Vaccine Remains Elusive
Aug 6, 2012 - Virus' variability and ability to integrate with host DNA are two major hurdles.
Read more...
No One Should Die From AIDS
Aug. 06 2012 - From the 19th International AIDS Conference, looking at how far we've come and how far we have to go before an AIDS-free generation
Read more...
Fearing advocacy, Ottawa rejects HIV/AIDS funding proposals
Aug. 06 2012 - Health Canada has turned down funding for an HIV/AIDS charity for fear it might result in advocacy - an indication of a growing tendency within the Conservative government to steer clear of groups pushing causes out of step with its policies.
Read more...
Unique Vancouver clinic provides comfort to HIV/AIDS patients
August 04, 2012 - VANCOUVER - Tucked away in a corner of St. Paul's Hospital in downtown Vancouver is a one of a kind clinic.
Read more...
HIV Prevention Pill Will Do More Harm Than Good
August 3, 2012 - WASHINGTON, D.C. - The side effects of Truvada PrEP outweigh its benefits, as people will struggle to take it regularly
Truvada PrEP will not work on a widespread scale because in order for it to be effective at preventing HIV infection, pills must be taken every single day. No missed doses. However, study after study has shown that people generally cannot meet this ideal.
Read more...
HIV Rages Among Black Gay Men
August 3, 2012 - WASHINGTON, D.C. - An alarming 60 percent of black men who have sex with men (MSM) in the U.S. will become infected with HIV by the age of 40, according to the latest research presented at the XIX International AIDS Conference in Washington last week.
Read more...


John Plater, man who fought for tainted blood victims, dead at 45
August 02, 2012 - John Plater, the man who fought to get compensation for people infected in Canada's tainted blood scandal, died on Saturday.
He was 45.

Do first responders need a criminal shield from HIV?
August 2, 2012 - (CBS) - The line between protecting HIV positive people from criminalization and protecting first responders who may be at risk for transmission is difficult to demark. According to the Positive Justice Project, there are 34 states and U.S. territories that explicitly criminalize HIV exposure through sex, shared needles or in some states, exposure to "bodily fluids" that can include saliva. Not on the list is New York, which uses general criminal laws to prosecute HIV patients in these types of situations.
Read more...


How to Fight HIV Criminalization in Courts of Law and Public Opinion
August 2, 2012 - As the XIX International AIDS Conference (AIDS 2012) in Washington, DC, presented hopes of achieving an AIDS-free generation, some advocates focused attention on a major obstacle to this goal: the criminalization of people living with or at high risk for HIV.
Read more...
HIV-infected T cells help transport the virus throughout the body
August 1, 2012 - A new study has discovered one more way the human immunodeficiency virus (HIV) exploits the immune system. Not only does HIV infect and destroy CD4-positive helper T cells - which normally direct and support the infection-fighting activities of other immune cells - the virus also appears to use those cells to travel through the body and infect other CD4 T cells.
Read more...
Changing the way HIV prevention is delivered - a roadmap
01 August 2012 - In the last few years there has been a wealth of dramatic data on the efficacy of new HIV prevention methods, including male circumcision, pre-exposure prophylaxis and treatment as prevention.
Read more...


Keeping babies HIV free in Ethiopia
Aug 1, 2012 - UNICEF correspondent Chris Niles reports on a programme that's putting an end to Mother-to-child transmission of HIV in Ethiopia.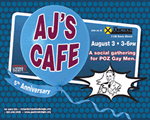 AJ's Cafe 5th Anniversary
A social gathering for POZ Gay Men
August 3 - 3 - 6 pm
Location:The Junction, 1138 Davie Street, Vancouver.

Greg Louganis on being diagnosed with HIV: "Honestly, I didn't think that I'd see 30"
August 1st, 2012 - Joining Piers Morgan face to face in London, the three-time Olympian opens up about testing positive for HIV more than two decades ago, and the fears that subsequently followed:
Watch Video...
Congresswoman Barbara Lee Calls for the End of AIDS
After International AIDS Conference, Congresswoman Encourages Continued Bipartisan Support
August 1, 2012 - Washington, D.C. - Following the completion of the 19th International AIDS Conference, Congresswoman Barbara Lee (CA-09) thanked the International AIDS Society for choosing Washington, D.C. as the host city. Known as AIDS 2012, the International AIDS Conference marked a dramatic return to U.S. soil of this major biannual global health gathering after a hiatus of 22 years. Congresswoman Lee was the original sponsor of legislation that cleared the way for the conference to be held in the United States by repealing the Immigration and Travel ban that barred the entry of HIV positive individuals.



Toward a Cure: Virologic Control Documented in 14 Acute HIV Treaters?
August 1, 2012 - A new study released Thursday, July 26, at the XIX International AIDS Conference (AIDS 2012) in Washington, DC, found that 14 people living with HIV have achieved long-term non-progressing "viral controller" status after being treated with antiretrovirals (ARVs) during the acute phase of their infections. The fact that these individuals have shown no signs of viral load rebounds following termination of their prescribed treatment regimens may ultimately provide guidance to scientists pursuing "functional" HIV cures.
Read more...
====================================