Positively Positive - Living with HIV/AIDS:
HIV/AIDS News Archive - May 2008

A Response to Chicago Reuter's News Release of May 19th, 2008 Entitled, "Study Raises Questions About a Facial Implant"
(as reported by Michael Conlon; editing by Mohammad Zargham)
and the study itself,
"Delayed Immune-Mediated Adverse Effects of Polyalkylimide Dermal Fillers: Clinical Findings and Long-term Follow-up" Jaume Alijotas-Reig, MD et al (Arch Dermatol. 2008;144(5):637-642)
May 27, 2008 - Ascente Medical Corporation and Polymekon s.r.l. and our medical advisors feel that the Reuter's article was written without proper and thorough understanding of the recently published study by Dr. Alijotas- Reig et al.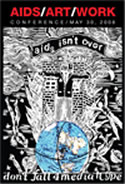 Visual AIDS, The Center for Lesbian and Gay Studies at the Graduate Center of CUNY (CLAGS), and the Australian Research Council present:
AIDS/ART/WORK
Friday, May 30, 2008
9:30 AM-5:30 PM
The Graduate Center
The City University of New York
365 Fifth Avenue, New York, NY (Nearest subways: B, D, F, V, N, R, W to 34th Street. 6 to 33rd Street)
Rooms 9206/9207
This one-day conference will explore the pasts, presents, and futures of AIDS art, AIDS activism, and AIDS prevention, and the connections between them.


IGLHRC Condemns Statements by Gambian President; Calls for Decriminalization of Homosexuality
23 May 2008 - In a strongly worded letter to Gambian President Yahyeh Jammeh, Paula Ettelbrick, Executive Director of the International Gay and Lesbian Human Rights Commission (IGLHRC) condemned statements by the West African leader ordering homosexuals out of the country, threatening hotel owners who rented rooms to gay and lesbian people, and threatening summary executions. Ettelbrick also called for the repeal of Gambia's antiquated sodomy law, inherited from its days as British colony.

US choke point for WHO
By Aileen Kwa
May 23, 2008 - Developing countries desperate to secure cheaper medicines for their populations, particularly for those suffering infectious diseases, will do battle in Geneva this week with the United States as the sole holdout against developing a more flexible global patent system.



Jamaica Aids Support offers sex education to commuters
By TANEISHA LEWIS
May 20, 2008 - PUBLIC commuters in St Ann are getting more than a ride nowadays. They are also getting sex education through a public education programme piloted by the St Ann chapter of the Jamaica AIDS Support for Life (JASL). The aim is to get persons taking buses or taxis to know more about HIV and AIDS and condom use.


IGLHRC Joins International Day Against Homophobia
The International Gay and Lesbian Human Rights Commission (IGLHRC) joins our many colleagues around the world in using this day-May 17, the International Day Against Homophobia (IDAHO)-to further raise the visibility of our struggles around the world to combat and eliminate the tragic consequences of homophobia.



VIENNA SELECTED TO HOST WORLD'S LARGEST INTERNATIONAL CONFERENCE ON HIV/AIDS IN 2010
CITY'S PROXIMITY TO EASTERN EUROPE AND CENTRAL ASIA, AND STRONG COMMITMENT TO HIV BY GOVERNMENT, SCIENTISTS AND CIVIL SOCIETY AMONG THE REASONS VIENNA SELECTED TO HOST XVIII INTERNATIONAL AIDS CONFERENCE
16 May 2008 - Vienna, Austria - Vienna, Austria has been chosen to host the XVIII International AIDS Conference (AIDS 2010), the largest international meeting on HIV, where every two years 25,000 participants representing all stakeholders in the global response to HIV meet to assess progress and identify future priorities.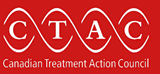 HIV/AIDS and Hepatitis Co-infected Community Calls on Federal and Provincial Governments to Provide Equal Access to Organ Transplant Surgeries and to Establish a Centre of Excellence for Organ Transplantation
May 16, 2008-Ottawa - The Canadian Treatment Action Council (CTAC) and other HIV & Hepatitis groups are advocating for equal access to organ transplantation for people living with HIV and with HIV & Hepatitis (co-infected).
Les communautés co-infectées par le VIH-sida et l'hépatite enjoignent les gouvernements fédéral et provinciaux à fournir un accès équitable à la transplantation d'organes et à établir un centre d'excellence pour la transplantation d'organes
16 mai 2008-Ottawa - Le Conseil canadien de surveillance et d'accès aux traitements (CCSAT) et d'autres groupes s'intéressant au VIH et à l'hépatite revendiquent un accès équitable à la transplantation d'organes pour les personnes vivant avec le VIH et l'hépatite (les personnes co-infectées).

Dr. Anthony Fauci reflects on 25 years of HIV
May 15, 2008 - On the 25th anniversary of the first scientific article linking a retrovirus to AIDS, Anthony S. Fauci, M.D., director of the National Institute of Allergy and Infectious Diseases, part of the National Institutes of Health, reflects in an essay in Nature on his experience treating and studying HIV/AIDS for the past quarter century.


AIDS 2008 May Update
May is a busy month, as the last minute registration surcharge has come into effect, affiliated event and exhibition applications close and late breaker abstract submissions open. With only three months left to go, we urge delegates to make the necessary arrangements for visa applications now and finalize their accommodation and tour bookings.
Actualización de AIDS 2008
Mayo se presenta ajetreado: entra en vigor el recargo por inscripción de última hora, cierra el plazo para las solicitudes de eventos afiliados y exposiciones, y se abre el plazo para el envío de resúmenes de última hora. Puesto que ya sólo quedan tres meses, instamos a los delegados a que realicen todos los trámites necesarios para obtener su visado ahora, y a que finalicen sus reservas de alojamiento y tours.



AHF Launches "YouTube" Campaign: "Congress-Save AIDS Treatment in PEPFAR"
Jenny Boyce, a Mother Living with HIV/AIDS in Durban, South Africa, Tells the Story of How Treatment Saved Her Life
Lydia Nyide Speaks About Her 11-Year-Old Granddaughter Phumla Whose Life Was Saved by Treatment



International Day Against Homophobia - May 17, 2008
Homosexuality is NOT a sickness!
In addition to the International Day Against Homophobia, Fondation Émergence, the pioneer of this event, is launching its annual campaign against homophobia for the year 2008. Entitled Homosexuality is not a sickness! this new campaign, which will reach its highpoint on May 17, when the Day is held, aims to reach healthcare workers as a priority.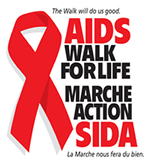 Scotiabank Steps Up to Support the AIDS Walk for Life
Toronto, May 9, 2008 - Scotiabank and the AIDS Walk for Life are coming together for the 2008 Scotiabank AIDS Walk for Life to be held in communities across Canada September 14 - 21.



Au Coeur de la Mode - Quebec's Most Important AIDS Fashion Charity Event is a Huge Success
4,000 Shoppers, Nearly $330,000 in Sales!
Montreal, Quebec - On Sunday, May 4, over 4,000 shoppers joined the Farha Foundation's bi-annual event and came to the Palais des congrès de Montréal to shop for a cause!



CANADA FINALLY POISED TO DELIVER ON PROMISE OF AFFORDABLE MEDICINES TO DEVELOPING COUNTRIES?
But law must be streamlined to ensure it will be used again
Toronto, May 7, 2008 - The Canadian HIV/AIDS Legal Network welcomed today's announcement that Rwanda's Government, after a competitive tendering process, has chosen to purchase a low-cost AIDS drug from Ontario-based generic pharmaceutical manufacturer Apotex, Inc. - meaning that Canada's Access to Medicines Regime should soon deliver for the first time on its promise of affordable medicines for countries.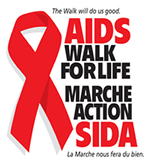 Artwork Chosen to Promote the 2008 AIDS Walk for Life: Morgan Mcconnell's The Nest Selected as Centrepiece for the Walk's Design
May 7, 2008, Ottawa - The AIDS Walk for Life announced the winner of their inaugural artwork competition in Ottawa today. The Walk selected a piece entitled The Nest by Morgan McConnell to be featured as the showpiece of their 2008 creative design. The Vancouver-based HIV-positive artist's work competed with several strong submissions from artists living with HIV/AIDS across Canada.




Visual AIDS - May Web Gallery
May 2008
VISUAL AIDS and THE BODY announces NEW WEB EXHIBITION
Linear Progression / Progressive Deterioration curated by Steven Gordon and RJ Supa

====================================