Positively Positive - Living with HIV/AIDS:
HIV/AIDS News Archive - November 2016

Breaking good: School students make costly drug cheaply using open source approach
30-Nov-2016 - High school synthesis of important medicine challenges drug-hike loophole
Sydney Grammar students, under the supervision of the University of Sydney and global members of the Open Source Malaria consortium, have reproduced an essential medicine in their high school laboratories. The drug, Daraprim, had been the subject of controversy when the price was hiked from US $13.50 to US$750 a dose last year.

World AIDS Day -- Liverpool leads research project to reduce mother-to-child transmission of HIV
30-Nov-2016 - Researchers from the University of Liverpool's Institute of Translational Medicine have been awarded a grant of up to US$ 8.9 million (GBP £5.8m) to lead a multinational research consortium that aims to reduce mother-to-child transmission of HIV.



People living with HIV and/or HCV to blast Public Health Agency of Canada for cutting funds to community-based health services
November 30, 2016 - Vancouver, BC - WHEN: 12pm, December 1, 2016—WORLD AIDS DAY
WHERE: Courtyard, Woodward's Building, Hastings and Abbott Streets, Vancouver
People living with HIV and/or HCV, and their supporters will stage a loud and impassioned public protest at 12pm, December 1, World AIDS Day at the Public Health Agency of Canada's (PHAC) offices. The group is protesting PHAC's stunted HIV and Hepatitis C Community Action Fund (CAF) Letter of Intent (LoI) process, which has so far resulted in devastating cuts to approximately 33% of previously funded organizations providing direct services to people living with HIV and/or HCV, and further reductions in funding to several other organizations involved in HIV and HCV service delivery across Canada.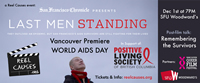 Celebrate WORLD AIDS Day at a screening of Last Men Standing
November 30, 2016 - Vancouver, BC - Vancouver Premiere World AIDS Day
WHERE: Courtyard, Woodward's Building, Hastings and Abbott Streets, Vancouver
In partnership, Reel Causes and Positive Living BC are presenting "Last Men Standing." This 65 minute film follows the lives of eight survivors of AIDS in the life they never thought they would get.

HIV-Positive Magician Daniel Bauer's Death-Defying Escapes are Beyond Belief
November 30, 2016 - Performances are scheduled for 8 p.m. on December 9 and 10, and at 2:30 p.m. and 7:30 pm. on December 11 at the Classical Theatre Company at 4617 Montrose. For information, visit beyondbelief.yapsody.com. $30.
Read more...
Ahead of World AIDS Day, UN chief honoured for work to end epidemic, fight against stigma
30 November 2016 - Speaking at a special event commemorating World AIDS Day, United Nations Secretary-General Ban Ki-moon today underscored the need tostop stigma and abuse against those living with the disease and to ensure that they receive the care, treatment and protection they are entitled to.
Read more...


Drugs not enough to fight global HIV, AIDS crisis
Nov. 30, 2016 - The heartbreaking reality is that this single-minded focus on delivering drugs has come at the expense of support for the human dimensions of the AIDS crisis.
The availability of drugs means HIV is no longer a certain death sentence. But it's the work of community-based organization that is resurrecting life.
Read more...
HIV vaccine candidate enters phase 2b/3 trial
November 30, 2016 - A phase 2b/3 trial led by researchers at the National Institute of Allergy and Infectious Diseases will be the first of its kind in 7 years to assess the efficacy of an HIV vaccine candidate, according to a press release.
The HVTN 702 trial will be conducted across 15 sites in South Africa where 5,400 HIV-uninfected participants aged 18 to 35 years will randomly receive the investigational vaccine or placebo. Results are slated for the end of 2020.
Read more...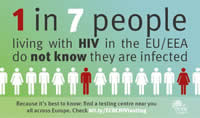 1 in 7 people living with HIV in the EU/EEA are not aware of their HIV status
29-Nov-2016 - ECDC and WHO Europe release new HIV/AIDS data for 53 countries
European Commissioner for Health and Food Safety, Vytenis Andriukaitis, said: "HIV/AIDS continues to be a serious problem in Europe. The Commission is committed to helping Member States reach the SDG target of ending HIV/AIDS and Tuberculosis by 2030 and reducing Hepatitis, as underlined a few days ago in our Communication for a sustainable European future. ECDC's estimate that one in seven people living with HIV are unaware of their status is particularly worrying: people who do not know they are infected cannot benefit from life-saving treatment, and can continue to transmit the virus to others. This is why easy and accessible testing is so important. The European Commission supports HIV testing by working together with Member States and civil society on joint projects, funded by the EU Health Programme, on prevention and linkage to care."

WHO releases new guidance for HIV self-testing
November 29, 2016 - According to a new WHO report, 40% of all people with HIV, which is estimated to be more than 14 million individuals, are unaware of their status. Many of them have a higher risk for HIV infection and cannot easily access existing testing services.

Syringe exchanges help reduce rates of HIV, CDC says
November 29, 2016 - (CNN) - A new report from the US Centers for Disease Control and Prevention, released Tuesday, finds that the use of syringe or needle exchanges has contributed to significant drops in the rates of HIV among African-American and Latino drug users.
Read more...


RED RIBBONS 4 LIFE 9 - Keynote Speaker: Dr. Brian Conway
Published on Nov 29, 2016 - November 27th, 2016. the Columbia Theatre, New Westminster, BC. Canada.
Dr. Brian Conway, M.D. FRCPC, President and Medical Director of the Vancouver Infectious Diseases Centre (VIDC), the Keynote Speaker for the Red Ribbons 4 Life 9 event.
Red Ribbons 4 Life has now become the largest single, one-night benefit for AIDS in the lower mainland outside the city of Vancouver!

One in seven with HIV in Europe unaware of infection: study
29th November 2016 - "HIV/AIDS continues to be a serious problem in Europe... The European Centre for Disease Prevention and Control's (ECDC) estimate that one in seven people living with HIV are unaware of their status is particularly worrying," EU Health Commissioner Vytenis Andriukaitis said in the report released ahead of World AIDS Day on Thursday.
Read more...
China to strengthen efforts on HIV/AIDS prevention and treatment
Nov 29,2016 - Strengthening efforts to prevent and treat AIDS and other serious diseases is significant to safeguarding people's health, according to Premier Li Keqiang's instruction to a State Council joint ministerial meeting in Beijing on Nov 29.
Read more...
Patti LaBelle: We Can't Ignore AIDS Like We Ignored The Election
29th November 2016 - The legendary singer will perform in L.A. to mark World AIDS Day.
Patti LaBelle is on a mission to help combat the fight against HIV/AIDS.
On Nov. 30, the legendary singer will join Common, JoJo and others in Los Angeles as a part of AIDS Healthcare Foundation's (AHF) "Keep the Promise" concert. Hosted by actress Rosie Perez, the special event is part of the non-profit organization's series of global initiatives to take place in commemoration of World AIDS Day (on Dec. 1).
Read more...
US disburses $3.4b to support Nigeria in eradicating HIV/AIDS virus
29 November 2016 -The U.S. Consulate General in Lagos, on Tuesday said that the U.S. Government had disbursed over 3.4 billion dollars to support the Nigerian HIV/AIDS response.
Read more...
HIV "a gift" for Victoria woman
29 November 2016 -"I did a complete 180 on my outlook on life. I am healthier than I've ever been in my life," said the now 55-year-old. "HIV has been a huge gift for me, it's gotten me involved in my life outside of myself. I've done so many things because of this disease and had so many opportunities."
Read more...
Azad Essa: HIV/AIDS hasn't gone away
29 November 2016 - Despite the gains made in the fight against HIV/AIDS, 5 700 people are still being infected daily, and millions still need treatment, writes Azad Essa.
Despite the gains, around one million people still died from AIDS-related diseases last year. Another 18 million still need treatment. More importantly, an estimated 5700 people were newly infected with the virus every day throughout 2015.
Read more...
Society 'needs to overcome stigma of HIV/Aids'
November 28, 2016 - THAILAND'S society – and even people living with HIV/Aids – have not progressed very far when it comes to overcoming the stigma attached to the virus.
"While medical services have seen big improvements in the past few decades, there is little or no progress on the stigma front," said Apiwat Kwangkaew, vice chair of the Thai Network for People Living with HIV.
Read more...
Greg Louganis Awarded With AIDS Service Center NYC Changemaker Award
November 28, 2016 - "I am truly honored to be recognized by an organization as dedicated as ASCNYC," Louganis told EDGE. "For 25 years, they have been on the ground providing life-saving services to New Yorkers living with HIV/AIDS. As they mark this milestone, they show no signs of letting up until we end the epidemic for all. I so look forward to lending my voice to rally support for their cause."
Read more...


World AIDS Day 2016 in Vancouver: Reel Causes, Positive Living BC, and Aboriginal AIDS Awareness Week
November 28th, 2016 - World AIDS Day is on Thursday (December 1), once again drawing attention to the state of HIV and AIDS.
Here in Vancouver, there'll be a few events that will be held in conjunction with the awareness day.
Read more...
HIV/AIDS cases continue to increase globally
November 25, 2016 - FAIRFIELD - The United Nations AIDS Program estimates that more than 36 million people worldwide are currently living with HIV/AIDS, with 2.1 million new cases of HIV and an estimated 1.1 million deaths from AIDS-related illnesses in 2015 worldwide, the county resolution states.
Read more...
How AIDS activists helped change the course of science
Nov. 25, 2016 - It took legions of patients – many of them at death's door – to persuade public officials and the scientific community to take action on a disease that would eventually kill double the number of Americans who died in the Vietnam War. Prejudice against gay men was largely responsible for the unnecessarily high death toll, writes journalist David France, author of How to Survive a Plague, a book that expands on his 2012 documentary film of the same name.
Read more...
China to approve 1st long-acting injection to treat HIV/AIDS
2016/11/24 - Treatment costs in China drop to 3,000 yuan a year: expert
China's national drug authority on Wednesday examined clinical research results on a domestically produced anti-HIV drug in its final phase prior to officially approving the drug.
Once approved, the new-generation drug, named Albuvirtide for Injection, is expected to be the world's first long-acting injection for HIV treatment.
Read more...
Red scarves fight chill of AIDS and HIV stigmatism
November 24, 2016 - Red scarves add a dash of colour against the grey skies as well as warmth and understanding about AIDS and HIV.
Formerly the AIDS Committee of Simcoe County, the Gilbert Centre is working with Grandmothers and Grandmothers from the Stephen Lewis Foundation, as well as inmates at the Central North Correctional Centre to share the hand-knitted red scarves, but to raise awareness of the ongoing stigma those with AIDS and with HIV continue to face each day.
Read more...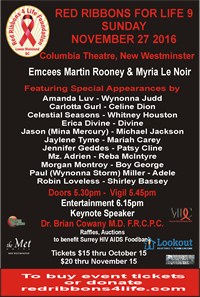 RED RIBBONS 4 LIFE 9
November 2016 - SUNDAY, NOVEMBER 27
Columbia Theatre. New Westminster
5:30 PM - 9 PM
Keynote Speaker: Dr. Brian Conway MD FRCPC.
Emcees Martin Rooney & Mira Le Noir
Feature performances
Red Ribbons 4 Life has now become the largest single, one-night benefit for AIDS in the lower mainland outside the city of Vancouver!
Read more...
Province marks HIV-AIDS Awareness Week
November 24, 2016 - A red-ribbon flag was raised Thursday to honour those living with HIV and AIDS, and the lives that have been lost.
The flag-raising was a public ceremony at Province House, beginning HIV/AIDS Awareness Week in Nova Scotia.
Read more...
HIV Update: Scientists Find Antibody That Combats 98% of HIV Strains
Nov 23, 2016 - Researchers at the NIH's National Institute of Allergies and Infectious Diseases (NIAID) have successfully identified an antibody from an HIV-infected patient that potently neutralized 98 percent of HIV strains, including 16 of 20 strains that are resistant to other antibodies of the same class.
Read more...
Tanzania suspends U.S.-funded AIDS programs in a new crackdown on gays
November 23 2016 - DAR ES SALAAM, Tanzania - Last month, the minister of health announced that Tanzania will ban HIV/AIDS outreach projects aimed at gay men, pending a review. That forced the closure, at least temporarily, of U.S.-funded programs that provide testing, condoms and medical care to gays. About 30 percent of gay men in Tanzania are HIV-positive; now health workers say that figure could rise.
Read more...
Freddie Mercury's Life Is the Story of HIV, Bisexuality, and Queer Identity
November 23 2016 - "Freddie Mercury was one of the first high-profile stars to die from the disease, and his story and the story of AIDS are, to some extent, inextricably linked," Langhorne says. "It was important to us to use the format of a biography to tell the story of the disease, and who better than Freddie Mercury?" This is biography unlike others, with Mercury's story of growing up in an Indian boarding school, a Parsi kid insecure about his overbite and in love with music, alongside contemporaneous scientific information about HIV.
Read more...
11,500 living with HIV/AIDS
November 23 2016 - IT IS estimated that 11,500 people in TT are living with HIV/AIDS, according to Health Minister Terrence Deyalsingh.
Read more...
Life still difficult for HIV/AIDS affected kids
November, 23/2016 - Viet Nam News HÀ N?I - Children affected by HIV/AIDS continue to face discrimination and other challenges despite significant gains made in efforts to help them, officials said at a meeting yesterday.
Read more...
Drug Speeds Up Reduction of HIV Levels in Semen, Research Shows
November 22, 2016 - Researchers at Bellvitge Biomedical Research Institute in Spain have evaluated the time it takes a new antiretroviral drug, called Dolutegravir, to dampen the virus in semen.
Known as an integrase inhibitor, Dolutegravir suppressed the viral load in seminal fluid to virtually undetectable levels more quickly than older antiretroviral drugs, including in patients for whom the process took longer.
Read more...


Bracing for Impact: Key Populations and HIV Activists Respond to the U.S Election Results
November 22, 2016 - Last week, GNP+ hosted an informational teleconference with over 200 HIV advocates and civil society representatives from around the world to discuss the outcome of the U.S. election as well as the future direction of HIV programs heavily funded by the U.S. government. During the call, the speakers gave an overview of the depth and breadth of U.S. investments into PEPFAR and the Global Fund – lifesaving HIV prevention, treatment and care bilateral and multilateral funding programs - and provided some insight into how ideologically conservative policies may impact the health, safety and wellbeing of key populations and people living with HIV domestically and abroad. The speakers also answered questions and gave call participants concrete recommendations on what they could do to strengthen civil society advocacy for the anticipated battles that lay ahead.
Read more...
Fighting AIDS: Inside the Hunt for the Elusive HIV Vaccine
November 22, 2016 - A blood test of AIDS returns a positive reading; for decades millions have died of the virus but now one doctor thinks he may be closer than over to quelling the virus.
Read more...
Kalter: Living with HIV 30 years later
November 22, 2016 - Everyday battle for Braintree man
Against all odds, he lived to see 25 and decades beyond. Now 55, Barrett credits his survival to years of clinical trials that turned an HIV diagnosis from a death sentence to a life sentence. Barrett was one of the early participants in the AIDS Clinical Trials Group, or ACTG, formed on Dec. 2, 1986, by a group of infectious disease doctors at Massachusetts General Hospital. As ACTG comes up on its 30-year anniversary, Barrett and local infectious disease scientists are urging patients to take part in a new chapter of research.
Read more...
Frontline attack against HIV infection is closer to reality
21-Nov-2016 - Researchers have made significant progress in the development of a potential vaccine to protect against HIV infection.
For the first time, researchers have shown that a combined approach - using a common cold virus to introduce a vaccine into the body, as well as an injection of a DNA-based vaccine - results in the immune system actively protecting against HIV in the gut and bodily cavities.
Read more...
Chinese drug aims at taming HIV/AIDS related complications
November 21st 2016 - NAIROBI, KENYA: As the countdown to World Aids Day to be observed next week gets closer, a Chinese researcher invention of popular herbal concoction has gained recognition as solution to HIV/AIDS and related complications such as TB.
Read more...
Report: More People with HIV on Treatment, Fewer People Dying from AIDS
November 21, 2016 - GENEVA - In advance of World AIDS Day on December 1, a new report finds that more people with HIV than ever before are receiving life-saving treatment, leading to fewer deaths from AIDS-related illnesses around the world.
Read more...
Surviving HIV for 20 years: The story of Maria Mejia
November 21, 2016 - Being diagnosed with a life-threatening illness is a devastating event in any person's life. When it comes to an HIV diagnosis, the event becomes even more agonizing. The pending prospect of a wasting illness and death hangs like an ever-present sword waiting to drop on the afflicted. For some, it can lead to a downward spiral of depression and death. For others, it becomes a fight for life and purpose. On Saturday, Oct. 15, 2016, the advocacy group SisterLove gathered women who have survived with an HIV diagnosis for 20 years or more. These women are not just victims of HIV, they are activists and educators against the disease as well as motivators.
Rolling out spoke with 10 of these women at the event.
Here is the story of Maria Mejia.
Read more...
Young African women are especially vulnerable to HIV/AIDS
Nov. 21, 2016 - Young women in sub-Saharan Africa are living through a "particularly dangerous time" when it comes to risk of HIV infection, according to the annual World AIDS Day report of the Joint United Nations Programme on HIV/AIDS (UNAIDS) in Geneva, Switzerland. About 19% of the estimated 2.1 million new cases worldwide in 2015—the most recent data for most analyses in the report—occurred in women between the ages of 15 and 24. And younger women in some places are at far higher risk than men of the same age; in southern Africa, for example, 91% of new infections in the 15- to 19-year-old group were in adolescent girls. "Young women are in an age group that is the least likely to have taken an HIV test and know their status. It's really amazing," says UNAIDS Executive Director Michel Sidibé.
Read more...
7 000 more HIV-AIDS cases forecast by next March
2016-11-21 - ABOUT 7 000 more Namibians are expected to be infected with the HI-virus by the end of the current financial year, which will bring Namibia's total HIV-AIDS infections to 227 000, Erongo health director Jeremiah Nghipundjwa says.
Read more...
Young people urged to say no to unsafe sex in fight against AIDS
November 19, 2016 - Speaking at the ceremony, the Under Secretary for Food and Health, Professor Sophia Chan, said, "In the first half of 2016, 335 new HIV infections were confirmed, with about two per day on average. We are worried as there are more and more young patients, while infections aged 29 or below have become nearly 30 per cent of all cases in recent years. Men who have sex with men (MSM), some 60 per cent of the cases, have been the majority of the newly infected.
Read more...
Groundbreaking Discovery: Is The Cure For HIV Finally Here? Find Out What Recent Study Says
November 19, 2016 - Scientists from the U.S. have recently discovered an antibody from an HIV-positive person;; which has been successful in neutralizing almost 98 percent of HIV isolates that has been tested, which includes the lion's share of strains resistant to other antibodies of the same class in their study. Experts claim that based on the striking efficacy of the powerful antibody known as N6, it can potentially be used in developing and re-purposing further research in the quest for the treatment and prevention of HIV infections.
Read more...


Health ministry to adopt World Health Organization HIV guidelines
November 18, 2016 - ST JAMES, Jamaica (JIS) - Come January, the Ministry of Health will be incorporating two key World Health Organization (WHO) guidelines in the National HIV/AIDS Programme.
Read more...
Buyers Clubs Big Business for HIV and HCV Drugs
NOV 18, 2016 - If you can't beat 'em, join 'em.
That's effectively the mindset behind so-called drug "buyers clubs," many of which are online-based, that offer members access to low-cost, generic HIV and hepatitis C virus (HCV) medications. The concept made famous by the 2013 film "Dallas Buyers Club" is still going strong, with organizations offering patients discounted drugs in many major cities around the world.
Read more...
Researchers examine how drug policy impacts HIV vulnerability among African-Americans
17-Nov-2016 - According to the model, two main factors -- disproportionate drug-arrests and sentencing of African American communities -- lead to pathways of HIV vulnerability.
Read more...


A Day With HIV: Everyday Pictures, Extraordinary Lives
November/December 2016 - It seemed like any other day, but Thursday, September 22 was A Day with HIV, and dozens of pictures were being posted on social media, accompanied by the hashtag #adaywithhiv.
Positively Aware's anti-stigma campaign portrays a single 24-hour period in the lives of people affected by HIV. Participants are encouraged to capture a moment of their day, and include a caption telling what inspired them to snap that picture. Now in its seventh year, the message of A Day with HIV is that, regardless of HIV status, stigma affects everyone.
Read more...


Around Town: Liberal MPs put "a sock on it" at CANFAR benefit for HIV prevention
November 17, 2016 - Currently, there are 75,000 people in Canada living with HIV, with affected people now living longer but having to struggle with the complications associated with the virus, according to CANFAR vice-president and COO Kyle Winters.
Read more...


Running Out of Time
November/December 2016 - Almost two years ago Positively Aware published an issue focused on HIV long-term survivors. It was one of our more popular issues, generating scores of comments and letters. It seemed to have struck a chord with many of our readers who are long-term survivors of HIV themselves, and are now having to deal with issues they never dreamed of, such as affordable housing, dwindling finances, and the psychosocial issues that often come with experiencing such great loss and trauma.
Read more...
World AIDS Day 2016: A Public Dedication of the New York City AIDS Memorial
NEW YORK - November 17, 2016 - Community leaders, activists, donors, and elected officials to gather at Seventh Avenue & Greenwich Avenue on December 1, 2016
The New York City AIDS Memorial Board of Directors and representatives, the New York City Department of Health and Mental Hygiene, the New York State Department of Health, and the END AIDS NY 2020 Coalition (comprised of over 70 community-based organizations who are working towards an end to the AIDS epidemic by 2020 through expanded testing, treatment, and prevention) have joined forces to host a public dedication of the newly completed New York City AIDS Memorial. The event opens to press at 10:15 a.m. and the program will begin at 11:00 a.m.
Read more...
Sri Lanka aims to be HIV free by 2030
Nov 17, 2016 - Sri Lanka is making timely interventions in its efforts to end the AIDS epidemic by 2030, as part of the Sustainable Development Goals, the United Nations Population Fund (UNFPA) said on Thursday.
The UNFPA said it supported Sri Lanka's efforts to implement a five year National Condom Strategy 2016-2020 as the correct and consistent use of condoms was one of the most effective means of preventing sexual transmission of HIV.
Read more...
'Auto-destructive syringes to help control diseases'
November 17, 2016 - LAHORE - Adviser to chief minister on Health Kh Salman Rafique has said auto-destructive syringes would be introduced to control hepatitis, HIV/AIDS and other infectious diseases. He said in first phase, these syringes would be introduced in public sector hospitals.
Read more...
NACA inaugurates HIV/AIDS stigma reduction strategy
17 November 2016 - The National Agency for the Control of AIDS (NACA) is set to host a national scientific conference on Human Immuno-deficiency Virus (HIV) prevention to showcase the achievements of the Acquired Immune Deficiency Syndrome (AIDS) response in Nigeria even as it has inaugurated the National HIV/AIDS Stigma Reduction Strategy and a Simplified Version of HIV Anti-Discrimination Act 2014, with supporting verses from the Bible and Q'uran.
Read more...


HIV organizations to get 'transitional project funding'
Nov. 16, 2016 - HIV/AIDS organizations whose federal funding proposals were rejected or reduced will receive 'transitional' funding until 2018, but some organizations are calling it a 'Band-Aid solution.'
HIV/AIDS organizations that had project funding proposals rejected or scaled back by the Public Health Agency of Canada (PHAC) earlier this year breathed a temporary, cautious sigh of relief last week after learning they will receive "transitional project funding" until March 2018.
Read more...


Why Are HIV Groups Charging Gilead With Bad Behavior in New PrEP Trial?
November 16, 2016 - Gilead is not following the accepted standard for community engagement in its new pre-exposure prophylaxis (PrEP) trial, and we are among a coalition of HIV activists and organizations from Europe and North America calling them out on their bad corporate behavior. We root our criticism in the Good Participatory Practice (GPP) guidelines that were inspired, in part, by controversies in earlier PrEP trials.
Read more...


NIH Scientists Identify Potent Antibody that Neutralizes Nearly All HIV Strains
November 15, 2016 - Scientists from the National Institutes of Health have identified an antibody from an HIV-infected person that potently neutralized 98 percent of HIV isolates tested, including 16 of 20 strains resistant to other antibodies of the same class. The remarkable breadth and potency of this antibody, named N6, make it an attractive candidate for further development to potentially treat or prevent HIV infection, say the researchers.



The End of AIDS? Advocacy in and Beyond 2016
November 15, 2016 - As advocates, organizations and state agencies touted the "end of the epidemic" through plans, press releases, initiatives and media articles, I dealt with friends who were newly diagnosed; friends attempting to manage an overly bureaucratic and difficult public benefits system; friends who were between jobs or needed a place to stay; friends who were discovering mental illness, admitting to addiction and losing their relationships. I realized that even if everyone had HIV treatment access and adherence, we would still need supportive services, still need each other: to talk, to advise, to share, to bond, to love, to find a path through the precarity of our lives.
Read more...
Life in the Plague Years
November 15, 2016 - On the first of December, three decades after the disease first hit the city, the New York City AIDS Memorial will open at ground zero of the epidemic — St. Vincent's hospital in Greenwich Village, now closed, where patients once flooded the rooms and spilled out into the surrounding corridors, turning the genteel facility very suddenly into a kind of war zone.
All told, more than 100,000 New York men, women, and children have died of AIDS, and the memorial is built in their names. But it reminds us, too, as all memorials do, of how much has already been forgotten.of the disease remains complex, the latest report by UNSW's Centre for Social Research in Health shows.
Read more...


GMHC RESPONDS TO DECISION TO DENY GENDER CONFIRMATION SURGERY FOR TRANSGENDER SOLDIERS & VETERANS
November 15, 2016 - NEW YORK, NY - Approximately 150,000 transgender adults have served or are serving in the US armed forces
GMHC is incredibly disappointed by today's news that a lack of federal funding will prevent the VA's rule change in support of gender confirmation surgery from taking effect. Gender confirmation surgery is a potentially life-saving treatment that is needed to protect the long-term health of individuals that require it.
Read more...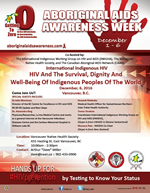 Aboriginal AIDS Awareness Week
International Indigenous HIV
HIV And the Survival, Dignity And Well-Being Of Indigenous Peoples Of the World
December 6, 2016
Vancouver, B.C.
NOVEMBER 2016 - Come Join Us!! Are you in Vancouver on December 6th? Come and join our local event for Aboriginal AIDS Awareness Week from 10am till 2:30. We have a prestigious line up of speakers including Dr. Julio Montaner from the BC Centre of Excellence in HIV and Marama Pala from the International Indigenous Working Group on HIV & AIDS.

Annual survey reveals significant gains in HIV treatment over the past decade
November 15, 2016 - There is compelling evidence that treatment greatly reduces HIV transmission but prevention of the disease remains complex, the latest report by UNSW's Centre for Social Research in Health shows.
Read more...
Film on Kaguri's Nyaka AIDS Orphans Project premieres Dec 1
15th November 2016 - Documentary film about the inspiring story of AIDS orphans schools built by one of CNN's 2012 heroes Jackon Twesigye Kaguri, to premiere in Kampala
This is the story narrated in a documentary film that will premiere in Kampala on World Aids Day, December 1 as the world learns of the story of Twesigye Jackson Kaguri, a humble immigrant living the American dream, who returned to Uganda to help his home village save a generation of children orphaned by HIV/AIDS.
Read more...


Long term decline in consistent condom use among Australian gay men
15 November 2016 - Data from the last ten years of the Australian Gay Community Periodic Surveys shows a steady decline in consistent condom use, with more gay men attempting to minimise their risk by serosorting or by having an undetectable viral load. While HIV-positive men appear to be increasingly confident in their low risk of HIV transmission, it is not clear that HIV-negative men have fully embraced the impact of antiretrovirals on HIV prevention.
Read more...
UN body advises on AIDS
15th November 2016 - UNAIDS serves as the leading advocate for global action against HIV/AIDS.
As the world prepares to mark World AIDS Day (December 1), a United Nations organization has said that strong adherence to antiretroviral therapy suppresses viral load to undetectable levels within people living with HIV, greatly reducing the risk of transmitting the virus to others.
Read more...
Six HIV/AIDS activists from South Florida are named to 2016 annual POZ 100 list
NOVEMBER 15, 2016 - Focusing on the South, POZ magazine has announced its 2016 annual POZ 100 list and six of the honorees are well-known in Miami-Dade and Broward counties.
Read more...


The POZ 100: Celebrating the South
November 14, 2016 - The POZ 100 list celebrates people working to end the HIV/AIDS epidemic. In the past, we've highlighted groups such as researchers, youth and long-term survivors, but this year we're focusing on a geographic region: the South.
Read more...


Argos Therapeutics Participating in Strategies for an HIV Cure 2016 Meeting
DURHAM, N.C., Nov. 14, 2016 (GLOBE NEWSWIRE) - Argos Therapeutics Inc. (Nasdaq:ARGS) ("Argos"), an immuno-oncology company focused on the development and commercialization of individualized immunotherapies based on the Arcelis® technology platform, today announced that the company is presenting at the Strategies for an HIV Cure 2016 meeting being held November 14-16 at the Natcher Conference Center on the main campus of the National Institutes of Health (NIH) in Bethesda, Maryland.



The First Things First Higher Education and Training HIV/AIDS Programme
Nov 14, 2016 - Students at Lovedale Public TVET College in Zwelitsha, have been screened for HIV and other STI's, as part of the First Things First Higher Education and Training HIV/AIDS Programme. The programme is aimed at promoting healthy lifestyle among students to ensure that money invested on higher education produces healthy. professionals who'll contribute positively to the country's economy.



The 'long tail' problem: forthcoming injected-PrEP efficacy trial delayed due to persistence of drug in some volunteers
11 November 2016 - Cabotegravir levels still measurable a year after last injection in one in six participants
A study presented at last month's HIV Research for Prevention (HIVR4P) conference in Chicago shows that in a minority of subjects who were given an experimental injectable drug as HIV pre-exposure prophylaxis (PrEP), the drug was still measurable in their body a full year after their last injection.
Read more...
Researchers develop USB stick that tests for HIV
November 10, 2016 - Researchers at Imperial College London and DNA Electronics developed a new type of HIV test that is performed on a USB stick. The device, which requires only a drop of blood, creates an electrical signal that can be read on a hand-held computer device in less than 30 minutes, according to data published in Scientific Reports.
Read more...
Study: Smoking can be deadlier than HIV
Nov 10 2016 - People with HIV who smoke cigarettes may be at greater risk of death from smoking than from HIV/AIDS-related causes, according to a recently published study. Smoking could shorten the lifespan of an HIV-positive person by six to eight years, underlining the importance of quitting,
Read more...
Campaign to address rising HIV rate among indigenous population
Nov 10 2016 - Events taking place next month will focus on fighting stigma and encouraging people to go for testing.
Trevor Stratton understands what it's like to live with stigma.
As an aboriginal person living with HIV for 26 years, the Toronto resident has often felt "isolated and desperate" because of his health status.
Read more...
NHS ordered to pay for HIV drug PrEP after losing High Court battle
10 Nov 2016 - NHS England has lost its appeal over a High Court ruling that it has the legal power to commission PrEP, a 'game changer' service in the fight against HIV/Aids.
Read more...
Half of HIV positive patients are less than 25-year: Speakers
November 10, 2016 - Karachi - The speakers in a seminar titled "HIV/Aids Awareness Programme" said HIV/Aids vulnerability was more prominent in age group of less than 25 years age people.
Read more...
Research offers new insights into how immunotherapy could help treat or functionally cure HIV
November 9, 2016 - Published online today in the New England Journal of Medicine, the research offers new insights into how immunotherapy could be used to develop a functional cure for HIV and eliminate the need for people living with the virus to take a daily regimen of medications.
Read more...


Emotional Survival Skills for Dangerous Times
November 9, 2016 - The very personal nature of the election has been tremendously challenging, but these tools help me sustain my emotional resilience:
Read more...
HIV Antibody Safe With Hint of Efficacy
November 9, 2016 - So-called bNab molecule delayed viral rebound but not for long.
Read more...


GMHC RESPONDS TO 2016 ELECTION RESULTS
November 9, 2016 - New York, New York - Call for Next President to Lead the National Fight to End AIDS
GMHC released the following statement after the close of the 2016 presidential election. Back in January, the agency released the first HIV/AIDS survey to all presidential candidates running at the time and asked them to communicate their positions to the public on ending the epidemic. Hillary Clinton, Martin O'Malley and Bernie Sanders were the only candidates to respond. Their responses can be found here:
Read more...


What the HIV/AIDS Community Is Saying About the 2016 Election Results
November 9, 2016 - A roundup of social media statements, press releases, commentary and more. Let us know your thoughts.
On its policy blog, AIDS United points out that Trump did not mention HIV/AIDS in his campaign speeches and platform. What does this mean in terms of fighting the epidemic during the next four years?
Read more...


Statement from the Global HIV Vaccine Enterprise Board of Directors: William Snow Stepping Down as Director of the Global HIV Vaccine Enterprise
November 8, 2016 - The Board of Directors of the Global HIV Vaccine Enterprise, an alliance of independent organizations committed to accelerating the development of HIV vaccines, today announced that William Snow will step down after nearly five years as the director of the Enterprise Secretariat. Mr. Snow will remain a senior advisor to the secretariat and the Enterprise Board. Enterprise Board Vice President Gerald Voss will serve as interim director.
Read more...


Brain fitness leads to improvement for some HIV-positive people
8 November 2016 - In Canada and other high-income countries the widespread availability of potent combination anti-HIV therapy (commonly called ART) has made severe HIV-related brain injury rare in the current era. Instead, researchers are finding milder forms of HIV-related brain injury. Such milder cases, particularly if they are symptom free, are often subtle and likely best uncovered through complex and time-consuming neuropsychological testing.

Russia's Fourth-Largest City Facing HIV Epidemic
November 8, 2016 - MOSCOW (AP) - Russian health officials say one in 50 people in Russia's fourth-largest city are infected with the HIV virus.
Read more...
HIV/AIDS in Venezuela 'impossible to control,' health group warns
CARACAS, Venezuela, Nov. 8 (UPI) - The Venezuelan Society of Infectious Diseases, or SVI, warns that the lives of HIV patients are in danger due to shortages of medicine and unscheduled treatment changes that make HIV/AIDS "impossible to control."
Read more...
PrEP regimens containing Selzentry safe, well-tolerated compared with Truvada
November 8, 2016 - Pre-exposure prophylaxis regimens containing Selzentry were generally safe and well-tolerated compared with Truvada, the standard-of-care PrEP drug, according to the results of a phase 2 trial.
Read more...
How Charlize Theron Is Helping Eradicate AIDS
November 8, 2016 - Growing up in South Africa gave Charlize Theron a unique perspective on the many tragedies of the AIDS epidemic, and heavily influenced her decision to become involved in helping to eradicate it.
Read more...
HIV-RNA common in spinal fluid of patients receiving ART
November 8, 2016 - The presence of small amounts of HIV-1 RNA in cerebrospinal fluid is common among patients receiving suppressive ART, study data show. According to researchers, the association between HIV-1 RNA discordance and HIV-associated neurocognitive disorder may be the result of compartmentalization.
Read more...
Improved diagnosis and treatment of fungal infections could prevent over a million AIDS deaths by 2020
November 8, 2016 - Fungal infection causes around half of AIDS-related deaths, of which there were 1,100,000 in 2015. Data analysis by Professor David Denning and published in Philosophical Transactions of the Royal Society B suggests that the opportunity to save lives is being missed.
Read more...


The 2016 HIV Cruise Retreat ("The Poz Cruise")
Published on Nov 7, 2016 - A fast-paced review of The 2016 Cruise Retreat, also known as "The Poz Cruise" (not associated with POZ Magazine). The event brings together hundreds of people living with HIV, as well as our friends and family, for a fabulous adventure on the high seas.

Having HIV isn't a crime. Why do efforts such as Prop. 60 try to convince us otherwise?
November 7, 2016 - In truth, Proposition 60 is a reflection of the ways in which people living with HIV are stigmatized, persecuted and policed across the country. Currently, 33 states have laws on the books that make it a crime to expose a partner to the virus. In 28 states, it's even a felony to do so. This might sound like a reasonable idea, one that advocates safer sex between individuals, but criminalizing HIV actually serves to force people further into the closet. How the U.S. legal and political system treats HIV is unsafe, unjust and overdue for reform, and the passage of Proposition 60 would only make the problem worse.
Read more...
HIV spread through North America from NYC
November 7, 2016 - Phylogenetic analyses estimate the jump to the US at about 1970 and place the ancestral US virus in New York City, strongly suggesting this was the crucial hub from which HIV made its way across the continent.
Read more...
Magic Johnson remembers Nov. 7, 1991, the day he told the world he was HIV positive
November 7, 2016 - Magic Johnson's life had already changed several days before Nov. 7, 1991.
But it was on that date that the Lakers superstar decided to share with the world the shocking news he had recently received from doctors — that he was HIV positive.
Read more...
Combination of HIV interventions more cost-effective in resource-limited settings
November 7, 2016 - A combination of interventions for HIV that reflect alternative routes to program strengthening and encourage country programs to evaluate costs, impact and clinical benefits of immediate initiation should be prioritized over individual high-cost interventions such as the universal test-and-treat strategy in regions with limited resources, according to recent findings published in Lancet HIV.
Read more...
HIV/AIDS fight: 'Stop being complacent'
7th November 2016 - KAMPALA - "The challenge is for the country to realize that the epidemic is not yet over."
As the Joint Clinical Research Center (JCRC) gears up to celebrate 25 years of service, its executive director Prof. Peter Mugyenyi has warned against complacency in the fight against HIV/AIDS.
Read more...
Scientists create 'breakthrough' drug that can make HIV cells 'self-destruct'
3 November 2016 - This could be a huge breakthrough in the search to stop HIV
Scientists have claimed they have created a 'breakthrough' drug that can make HIV cells 'self-destruct' without harming the body.
The drug, which was added to test tubes containing the blood of 10 HIV patients, was found to decrease the viral load by 97%.
Read more...
Decline in new HIV infections stalled, says UNAIDS
03 November 2016 - It is feared that the gains the world including Nigeria have made in reducing new Human Immuno-deficiency Virus (HIV) infections and Acquired Immune Deficiency Syndrome (AIDS) deaths may have been lost with new report that the decline in new infections among adults has stalled.
Read more...
'Roz and Ray': An HIV tragedy with lessons for today
Nov. 3, 2016 - Seattle Repertory drama, panel explore fallout from an early AIDS crisis in hemophiliacs
Seattle Repertory Theatre's world premiere of "Roz and Ray" is both a look back at an almost-forgotten chapter in the history of the HIV/AIDS epidemic and an exploration of medical decision-making and ethics that is still timely today.
Read more...
English patient received HIV–positive to HIV–positive liver transplant in 2011
November 2, 2016 - A patient in England received the first known HIV–positive to HIV–positive liver transplant in the world in 2011.
The surgery was performed on July 16, 2011, at the Queen Elizabeth Hospital in Birmingham, England — predating by almost 5 years the first such transplant performed in the United States by a surgical team from Johns Hopkins Medicine.
Read more...
AIDS Activist Larry Kramer on 'Patient Zero' Myth, HIV Stigma
Nov 2 2016 - As "Patient Zero," he was blamed by the media as the cause of the rapidly spreading virus. The epidemic found a face, even though it was one based more in myth than in reality.
Read more...
Quinte Grannies mark 10 years of fun and fundraising
Nov 02, 2016 - It's been a decade of fun and activism for one group of local grandmothers, members of which have spent that 10 years raising funds for those in need half a world away.
Read more...
Israeli research successful in identifying possible HIV, AIDS cure
11/02/2016 - Scientists have identified a protein that could practically eliminate the HIV virus.
Researchers at the Hebrew University in Jerusalem have identified a protein called Gammora that they say can reduce HIV, Human Immunodeficiency Virus, in infected patients by 97 percent.
Read more...
HIV/ AIDS exhibition now on at Adler Museum – precursor to World Aids Day -
1 November 2016 - The globally acclaimed HIV/AIDS exhibition, Through Positive Eyes, opens today at the Adler Museum of Medicine in the Faculty of Health Sciences at Wits.
Through Positive Eyes features over 100 photographs, sculptures, and live storytelling acts that document the realities of individuals worldwide living with HIV.
Uniquely, the project puts cameras into the hands of HIV-positive people themselves, encouraging them to show their faces and daily lives in response to stigma and locating their words and images at the heart of the response to the disease.
Read more...
Why did it take so long for science to debunk the Aids 'Patient Zero'?
1 November 2016 - There was evidence of HIV/Aids in America before Gaetan Dugas came carrying it. But society needs a scapegoat
Last week, the New York Times times reported on a study published by the journal Nature which charged that the HIV virus first came to the United States in the 1970s, taking the blame for bringing Aids to our shores away from the infamous "Patient Zero", Gaëtan Dugas, a French Canadian gay flight attendant. Dugas was not named in early research, and is still not named in the Nature study - but he was outed and demonized in Randy Shilts's 1987 book And the Band Played On.
Read more...
====================================