Positively Positive - Living with HIV/AIDS:
HIV/AIDS News Archive - June 2009



Americans Spent $33.9 Billion Out-of-Pocket on Complementary and Alternative Medicine
June 30, 2009 - Americans spent $33.9 billion out-of-pocket on complementary and alternative medicine (CAM) over the previous 12 months, according to a 2007 government survey[1].

Harvard scientists solve mystery about why HIV patients are more susceptible to TB infection
30-Jun-2009 - New research published in the Journal of Leukocyte Biology describe how HIV switches off the immune response to mycobacterium tuberculosis
A team of Harvard scientists has taken an important first step toward the development of new treatments to help people with HIV battle Mycobacterium tuberculosis (TB) infection. In their report, appearing in the July 2009 print issue of the Journal of Leukocyte Biology (http://www.jleukbio.org) they describe how HIV interferes with the cellular and molecular mechanisms used by the lungs to fight TB infection. This information is crucial for researchers developing treatments to help people with HIV prevent or recover from TB infection.

Administration Moves Forward on Regulation Ending HIV Travel and Immigration Ban
June 26, 2009 - WASHINGTON - "We are one important step closer to finally ending this discriminatory ban once and for all," said HRC President Joe Solmonese
The Human Rights Campaign, the nation's largest lesbian, gay, bisexual and transgender (LGBT) civil rights organization, responded today to the Office of Management and Budget indicating that they have completed review of a proposed regulation which would remove the remaining barrier to HIV-positive visitors and immigrants.
Read more...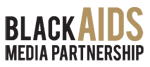 New Media-led Effort Responds to AIDS Crisis in Black America
25 June 2009 - GREATER THAN AIDS Promotes Unity, Power of Community.
Multi-Platform Campaign Incorporates PSAs, Integrated Content and Community Activities.
Today, leading U.S. media companies announced a new coordinated national campaign to mobilize Black Americans in response to AIDS and promote specific calls-to-action to prevent and reduce the further spread of HIV. Greater Than AIDS - a multi-faceted campaign presented under a common brand that includes targeted public service ads (PSAs) as well as integrated messages in news, entertainment and community content - seeks to strengthen a sense of community among Black Americans in response to HIV/AIDS.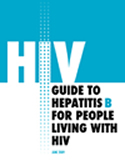 Guide to Hepatitis B for people living with HIV - Available in English and Spanish
The Guide To Hepatitis B For People Living With HIV is now available. This guide provides information on the prevention, care, and treatment of HBV, and the impact of HBV on HIV disease.
English and Spanish versions of the Guide are available on-line...

YWCAs to Mark National HIV Testing Day on June 27
WASHINGTON, June 25 /PRNewswire/- The YWCA USA and many of its 300 local associations across the country will join with the federal Centers for Disease Control and Prevention in marking National HIV Testing Day on June 27.
National HIV Testing Day aims to raise public awareness about the fact that one in five Americans who is infected with HIV does not know it and, as a consequence, can unknowingly spread the deadly virus to others.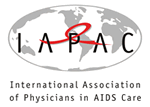 IAPAC Partners with Healthy Interactions® to Advance HIV/AIDS Education Across Diverse Cultures, Patient Populations
CHICAGO, June 24, 2009 - The International Association of Physicians in AIDS Care (IAPAC) today announced that it is entering into a partnership with global patient education innovator Healthy Interactions. The partnership will address the rising incidence of HIV/AIDS in both developed and developing world nations via culturally relevant education programs that speak to diverse patient populations and enhance global HIV literacy.

STATEMENT OF ANTHONY S. FAUCI, M.D. DIRECTOR, NATIONAL INSTITUTE OF ALLERGY AND INFECTIOUS DISEASES NATIONAL INSTITUTES OF HEALTH ON NATIONAL HIV TESTING DAY JUNE 27, 2009
June 23, 2009 - The importance of National HIV Testing Day becomes clear when one recognizes that an estimated one-fifth of all Americans infected with HIV do not know they are infected.[1] Among Americans who have been tested for the virus, more than one-third of those who learned they are infected became aware of their status less than a year before being diagnosed with AIDS-long after the optimal time to begin antiretroviral therapy.[2]

25th Anniversary AIDS Candlelight Vigil in Toronto: Media Opportunity
TORONTO, June 23 /CNW/- Thursday evening, June 25 2009 at 9:00 p.m. - Cawthra Park, Toronto
The 25th annual AIDS Candlelight Vigil () will be held in Toronto on Thursday evening, June 25, 2009 at the AIDS Memorial in Cawthra Park, in downtown Toronto. This year marks a special milestone in the history of the AIDS Vigil in Toronto, one of the oldest and largest community AIDS Vigils in the world. In recognition of the unique history and continuing battle of the fight against HIV/AIDS, this anniversary Vigil also pays tribute to long-term survivors and others in the AIDS community who have been engaged in the battle since the beginning over 25 years ago.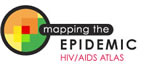 Video: National Minority Quality Forum Launches First U.S. HIV/AIDS Atlas
WASHINGTON, D.C. (June 22, 2009) /PRNewswire/ - MapHIV.org Shows Vast Majority of Nation's HIV Burden Clustered in Only 20% of Counties
The National Minority Quality Forum today launched a groundbreaking HIV/AIDS Atlas (http://www.MapHIV.org) that highlights the impact of the HIV/AIDS epidemic in communities across the United States. The Atlas makes information on HIV/AIDS prevalence rates available in a single location for the first time, painting a comprehensive picture of the varying intensity of the epidemic across the country.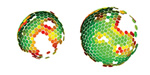 New electron microscopy images reveal the assembly of HIV
Heidelberg, 22 June 2009 - EMBL researchers provide the as yet closest look at the structure of immature HIV
Scientists at the and the University Clinic Heidelberg, Germany, have produced a three-dimensional reconstruction of HIV (Human Immunodeficiency Virus), which shows the structure of the immature form of the virus at unprecedented detail. Immature HIV is a precursor of the infectious virus, which can cause AIDS.



Giant rainbow flag to descend upon Toronto's Church and Wellesley Village
TORONTO, June 22 /CNW/ - The 519 to kick off its annual Pride festivities by unfurling a giant flag over its building
In its annual demonstration of Pride, will unfurl a giant rainbow flag over the face of its century-old building. The unfurling will occur today at Noon.

A new weapon in the war against HIV-AIDS: Combined antiviral and targeted chemotherapy
Montreal, June 21, 2009 - A discovery by a team of Canadian and American researchers could provide new ways to fight HIV-AIDS. According to a new study published in Nature Medicine, HIV-AIDS could be treated through a combination of targeted chemotherapy and current Highly Active Retroviral (HAART) treatments. This radical new therapy would make it possible to destroy both the viruses circulating in the body as well as those playing hide-and-seek in immune system cells.



Kombucha caution
2009 June 19- Doctors in Los Angeles, California, recently reported the unfortunate case of a young HIV positive man who experienced life-threatening toxicity from a complementary therapy called Kombucha tea. Before we report their findings, we first present some background information on Kombucha.
Read more...


150 Days And Counting: Obama's Silence on AIDS is Deafening
Los Angeles - June 18, 2009 - Campaign to Prod President Obama to Act on AIDS Has Included Thought-Provoking Viral Videos, an ongoing eLetter-Writing Campaign, a Controversial D.C. Bus Shelter Ad "AIDS is DC's Katrina," and an Interactive Website:
On the observation of President Obama's first 150 days in office, AIDS Healthcare Foundation (AHF), the nation's largest AIDS organization, is continuing its "Change AIDS Obama" campaign with the release of a new online advocacy video chastising the president for his ongoing-and baffling-silence on AIDS.



NEW UNITED STATES IMMIGRATION PROCEDURES UNPRODUCTIVE AND DISCRIMINATORY AGAINST PEOPLE LIVING WITH HIV
(Amsterdam/Washington, D.C.) - The Global Network of People Living with HIV/AIDS (GNP+) and its partner organization, the Global Network of People Living with HIV/AIDS - North America (GNP+NA), are disappointed that the Government of the United States has not been able to resolve the change in policy regarding entry restrictions for people living with HIV.

AIDS denialists who have died
A partial list of HIV-positive HIV/AIDS denialists who have died from conditions, and with symptoms, characteristic of AIDS. None of the scientists and journalists who are the most prominent promoters of HIV denialist theories in the mainstream and "independent" media have reported testing positive for HIV; the issue of the cause and treatment of HIV/AIDS is a purely academic matter for those who drive the denialist movement. But a number of people diagnosed with HIV infection - people whose lives are in the balance - have become activists in the "AIDS dissident" movement. Tragically, many of these individuals have died with symptoms and/or infectious illnesses that are characteristic of AIDS.
Read more...


Protest: AHF to Renew Call for California 'Condoms in Porn' Law at Larry Flynt's Hustler/Hollywood Store
LOS ANGELES, June 12 /PRNewswire-USNewswire/ - After the Los Angeles Times reported that as many as 16 actors and actresses in the adult entertainment industry recently tested positive for HIV, AIDS Healthcare Foundation (AHF) will host a press conference, protest and rally Monday, June 15th at 9:00pm at porn impresario Larry Flynt's Hustler/Hollywood Store on the Sunset Strip in West Hollywood (8920 Sunset Blvd.) to call for the introduction of landmark California legislation that would require the use of condoms by actors performing in porn videos produced by California's multi-billion dollar adult entertainment industry -- a mainstay of the San Fernando Valley economy.

New study reveals structure of the HIV protein shell
June 12th, 2009 - New research by scientists at The Scripps Research Institute and other institutions provides a close-up look at the cone-shaped shell that is the hallmark of human immunodeficiency virus (HIV), revealing how it is held together-and possible ways to break it apart.
Read more...
25th Anniversary AIDS Candlelight Vigil to commemorate long-term survivors, activists
TORONTO, June 12 /CNW/ - Thousands of candles will be lit on June 25, 2009 in tribute to those who live with and have been lost to HIV/AIDS. This year's 25th Anniversary AIDS Candlelight Vigil will focus on the courage and commitment of long-term HIV/AIDS survivors as well as the broader HIV/AIDS community who have shaped and sustained the fight for over 25 years. The Vigil will take place at the AIDS Memorial in Cawthra Square Park, next to The 519 Church Street Community Centre, on Thursday evening, June 25 starting at 9 pm.



Time for Canada to "grow up" about drugs
TORONTO, June 12 /CNW/ - Researchers, lawyers and activists will tell over-capacity symposium audience what's needed in Canadian drug policy
Canada's leading advocacy organization on HIV-related legal issues is calling on the federal government to commit to national policies on drugs that are based on evidence, a key theme to be addressed by a panel of experts this Saturday at a national symposium in Toronto.

A Short Guide to HIV/AIDS Denialism
An Interview With Clinical Psycologist Seth Kalichman, PHD.
Read more...
NIH funds Einstein center to target HIV-related brain disease
June 11, 2009 - (BRONX, NY) - Proteomics technology to focus on neurological complications.
The National Institute on Drug Abuse of the National Institutes of Health has awarded a three-year, $3-million grant to Albert Einstein College of Medicine of Yeshiva University to establish a research center to study the neurological complications that afflict people infected with HIV, the virus that causes AIDS.



IAS Investigates Washington D.C. as Host of 2012 International AIDS Conference
11 June 2009 (Geneva, Switzerland) - Washington D.C. could be the host city of the world's largest conference in the field of health and development if the United States drops its ban on the entry of HIV-positive people.
The International AIDS Society (IAS) today announced its interest in convening the International AIDS Conference in 2012 (AIDS 2012) in Washington, D.C.. The final decision would depend on whether the United States drops its 22-year old ban on the entry of foreigners living with HIV into the country.



FOCUS ON CRIMINALIZATION
Public lecture by HIV-positive judge from South Africa's top court kicks off sold-out Toronto symposium on HIV, Law and Human Rights
TORONTO, June 9, 2009 - Judges are used to handing down decisions from the bench on sensitive, complex issues, but this Friday, at Osgoode Hall in Toronto, a worldrenowned judge will address a particularly controversial topic that has made headlines in recent months: the criminalization of people who have exposed others to HIV.

HIV cardiovascular risk equal to risk from diabetes, study finds
June 3, 2009 - UCSF News Office: HIV infection increases the risk of atherosclerosis - hardening and thickening of the arteries from plaque - by the same amount that traditional risk factors such as diabetes or smoking do, according to a study led by researchers from the San Francisco VA Medical Center and the University of California, San Francisco.

Stephen Lewis on hot seat over aid
Jun 02, 2009 - The multiple exchanges between Moyo and Canada's celebrated former UN special envoy for HIV-AIDS took place last night at the Munk Debate on Foreign Aid at the Royal Ontario Museum. About 800 packed the auditorium while 300 watched on big screens.

====================================