Positively Positive - Living with HIV/AIDS:
HIV/AIDS News Archive - June 2012



Common Infection Raises Female to Male HIV Risk
June 29, 2012 - It's long been known that bacterial vaginosis, or BV, increases a woman's risk of getting HIV. Now, research shows an HIV positive women, who also has the bacterial infection, has a three-fold greater risk of transmitting the AIDS virus to her male partner.
Read more...


HE AIDS INSTITUTE REACTS TO SUPREME COURT DECISION
June 28, 2012 - Washington DC - Time Now for All Parties in Washington and in the States to Turn to Implementation
We are extremely pleased that health reform will proceed in the U.S. and millions of people, including many with HIV/AIDS, who have not had quality affordable health care will have access to care and treatment, along with preventative services, as a result of today's Supreme Court ruling on the Affordable Care Act," commented Carl Schmid, Deputy Executive Director of The AIDS Institute.

L.A. unveils its own official condom
June 28, 2012 - Los Angeles County health officials wrapped up their first-ever condom contest Thursday and announced the winner of the "L.A.'s Next Sex Symbol" competition, launched in May to promote safe sex.
Read more...
Panel picks winning condom-awareness logo
June 28, 2012 - OTTAWA - The winning entry in Ottawa Public Health's condom-awareness logo contest was decided Thursday, one of a "diverse" group of submissions, according to a city councillor on the judging panel.
Read more...
New once-daily 'Quad' pill for HIV is safe, effective alternative to traditional antiretroviral regimens
June 28, 2012 - The findings of two large international randomized trials published in this week's Lancet also indicate that the new "Quad" pill is faster acting, doesn't have the neuropsychiatric side effects associated with other combinations, and could improve compliance with treatment.
Read more...


AIDS 2012 to Say Thanks to US
June 28, 2012 - The U.S. has been the leading force in funding and scientific expertise in the battle against HIV/AIDS. Conference co-chair, Dr. Elly Katabira of Uganda, says he'll use the occasion to say, "Thank you."
Read more...


Call for Presentations for Canada Exhibit at AIDS 2012
June 27, 2012 - CANADA Exhibit - Call for Presentations
Overview:The XIX International AIDS conference in Washington, D.C. presents an opportunity for Canadians working in many areas of HIV/AIDS to network and share with their peers from around the globe. This year, the Canada Exhibit will once again have a prominent placement in the exhibit area at the conference and will be visited by many of the 20,000+ delegates

Appel d'exposés pour l'Exposition du Canada à la Conférence internationale sur le sida 2012
June 27, 2012 - L'exposition du Canada - Appel d'exposés
Aperçu: Aperçu La XIXe Conférence internationale sur le sida à Washington, D.C. offre une possibilité aux Canadiennes et aux Canadiens qui travaillent dans de nombreux domaines connexes au sida de réseauter et de partager leurs expériences avec leurs pairs du monde entier.



ONLINE COVERAGE OF XIX INTERNATIONAL AIDS CONFERENCE TO INCLUDE DAILY WEBCASTS, PODCASTS AND NEWS RECAPS
June 27, 2012 - Menlo Park, CA and Geneva, Switzerland - The International AIDS Society (IAS), custodian of the International AIDS Conference, and the Kaiser Family Foundation will provide free, worldwide online access to the XIX International AIDS Conference (AIDS 2012) taking place in Washington, D.C., USA.



Brand New High-Performance 12 Week Gay Coaching Group For HIV Positive Men By Gay Matchmaker Offers An Upbeat Approach To Dealing With Complexities Of Positive Living
Miami, FL (PRWEB) June 26, 2012 - Magnetic High Performance is the new 12 week gay group-coaching program offered for HIV positive men who want more from life. Developed from scratch by Paul Angelo MHA, MBA who is a gay matchmaker from Miami, brings enthusiasm and hope for any gay man who has troubles finding new purpose and vision in his life.
Any gay men over 40 years old who is HIV positive can now join a 12-week high-performance gay coaching group for HIV positive men offered by Paul Angelo MHA, MBA, the gay matchmaker from Miami.



HIV Treatment May Lower Risk of Precancerous Anal Lesions
June 26, 2012 - Potential good news for HIV-positive men who have sex with men: Antiretroviral therapy may reduce the prevalence of precancerous anal lesions and infection with the cancer-causing human papillomavirus (HPV), according to a new study published in the July issue of the journal Sexually Transmitted Diseases.
Read more...
War on drugs 'unsustainable,' ex-justice Louise Arbour says
June 26, 2012 - The report comes as Canada's Conservative government comes under fire for passing tough-on-drugs legislation - a policy direction that has drawn condemnation in past from the international panel. But the report singles out positive progress in British Columbia, where public health interventions like syringe distribution, substitution programs and medically supervised injecting facilities have led to historic low rates of HIV.
Read more...


30 Reasons to Get an HIV Test
Here are our top 30 reasons to get an HIV test. What's your reason?



Six Former Presidents, Richard Branson and Other World Leaders: Criminalization of Drug Use Fuels the Global HIV/AIDS Pandemic
June 26, 2012 - Landmark Report Released in Advance of 2012 World AIDS Conference in Washington, DC
Today, the Global Commission on Drug Policy will release a groundbreaking report at a press conference in London followed by a worldwide teleconference. The report condemns the drug war as a failure and recommends immediate, major reforms of the global drug prohibition regime to halt the spread of HIV infection and other drug war harms.

AIDS: Genetic Clues from HIV Elite Controllers Could Lead to Better Vaccines, Cancer Treatments [Preview]
June 25, 2012 - A rare group of HIV-positive individuals need no medicine to keep the virus in check. Their good fortune could point the way to more powerful treatments--and perhaps a vaccine
The members of parliament who agreed to the procedure belonged to a panel on health issues that set up an HIV/AIDS testing and male circumcision center. Officials said more than 40 lawmakers have volunteered to undergo circumcision.
Read more...


Report calls on U.N. bodies to combat HIV/AIDS by dropping war on drugs
June 25, 2012 - JA report that cites the success of Vancouver's supervised injection site in reducing the prevalence of HIV/AIDS is urging several United Nations bodies to adopt a cohesive stance on harm-reduction and abandon the war on drugs.
Read more...


What could Truvada mean for the fight against AIDS?
June 25, 2012 - If approved for HIV prevention, as an FDA advisory panel recommended in May, it can be prescribed to healthy patients who are at high risk, such as partners of people who have HIV/AIDS and non-monogamous gay and bisexual men. Experts offer their thoughts on the drug.
Read more...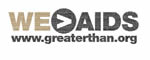 ERASE DOUBT TEAMS UP WITH WALGREENS AND GREATER THAN AIDS TO OFFER FREE HIV TESTING DURING HIV TESTING WEEK 2012
June 25, 2012 - LOS ANGELES - HIV Testing Events at Select Walgreens Locations Between June 27-29, from 3 p.m. to 7 p.m. Daily
June 27 is National HIV Testing Day. In Los Angeles County, a whole week is dedicated to offering free HIV testing. During the week of June 25 - July 2, 2012 residents can find free HIV testing available throughout the county. This year, Erase Doubt is teaming up with Walgreens and Greater Than AIDS, a national HIV awareness and prevention campaign, to offer free testing at select Walgreens locations from June 27-June 29.


Suits Dinner Monday June 25th Lombardo's
SUITS - POZ WORKING MEN'S DINNER GROUP
Patti Lombardo opened Lombardo's in 1986. For 25 years she has served up some of the best pizza in the city. Many awards and accolades have been attributed to the Napolateana style of wood-oven pizza.
Monday June 25th



Ontario Crown Prosecutors on Witch-Hunt: PHAs Must Always Disclose HIV Status before Sex or Face Imprisonment
June 24, 2012 - On June 25 and 26, 2012, the Court of Appeal for Ontario will hear appeals in two HIV non-disclosure cases. In both cases the Ontario government will argue that people living with HIV have a legal obligation to disclose their HIV to all sexual partners regardless of the risk of HIV transmission associated with the sexual act. Regardless of whether a condom is used. Regardless of the HIV-positive person's HIV viral load-even if it is undetectable. Regardless of whether it was only oral sex.
Read more...

Theratechnologies Provides Regulatory Update on Tesamorelin
Montreal, Canada - June 22, 2012 - Theratechnologies Inc. (TSX: TH) (NASDAQ: THER) announced today important regulatory updates regarding the European Union, Canada and Brazil.



AIDS Memorial Quilt marks 25 years with display in D.C.
June 21, 2012 - It was on June 27, 1987, when a group of grieving friends and loved ones hung a 40-panel quilt from a balcony in San Francisco to memorialize 40 lives lost to AIDS. Their act inspired thousands of mothers, brothers, friends and lovers to make and send in their own panels and, soon, that quilt became the world's biggest piece of folk art and the nation's most tangible symbol of the epidemic.
Read more...


Looking to AIDS 2012: Turning the Tide Together
2012-06-21 - Washington, D.C. - Ambassador Eric Goosby, U.S. Global AIDS Coordinator
For the first time in over 20 years, the biannual International AIDS Conference will take place on American soil. From July 22-27, AIDS 2012 will convene scientists, health professionals, policy makers and those affected by AIDS in Washington, D.C. to assess progress to date and identify next steps in the global response.

Thousands don't know they carry HIV virus
June 21, 2012 - Our week in the emergency department continues with a look at a pilot project that will offer an HIV test to people arriving
Up to 4,500 people in B.C. are carrying the HIV virus unawares - and spreading it, health officials believe.
Read more...


Stellar Biotechnologies to Present at ICAAC 2012 Conference on September 9 - 12, 2012
PORT HUENEME, CA, (June 20, 2012) - Stellar Biotechnologies, Inc. ("Stellar") (TSX-V: KLH) (PINKSHEETS: SBOTF) (Frankfurt: RBT) is pleased to announced that Stellar scientists will be presenting new KLH science at the ICAAC 2012 Conference (the meeting of the American Society for Microbiology - "the world's premier international conference on antimicrobial agents and infectious diseases" (http://www.icaac.org/) in San Francisco on September 9 - 12 in a poster presentation entitled "Keyhole Limpet Hemocyanin (KLH) N-Glycans Share Similar Structural Features with Saccharides of Schistosoma, Trypanosoma, Leishmania, Cryptococcus, Apergillis, Candida, E. coli, Salmonella, Clostridium and Hepatitis C virus (HCV)".

MEDIA ADVISORY - AIDS Candlelight Vigil to be held in Toronto
TORONTO, June 20, 2012 /CNW/ - Thousands to gather in annual event, 30 new names added to memorial
On Thursday, June 21, 2012, the Toronto AIDS Memorial will be glowing in candlelight as some 2,000 people gather at the Candlelight Vigil to honour, remember and celebrate people who have died of HIV/AIDS, those affected by HIV/AIDS and people who are living with HIV/AIDS.



AAN! Tells Ontario Crown Prosecutors to "Think Twice" Before Going Ahead with Criminal Cases
June 20, 2012 - Koraput - AAN! placed a half-page ad in this week's edition of the Ontario Reports urging Crown Prosecutors to Think Twice before proceeding with HIV non-disclosure criminal cases. Crown Prosecutors play a pivotal role in the criminal justice system-they decide whether or not to proceed with criminal charges, and what charges are appropriate if they decide to go ahead with a prosecution.
Read more...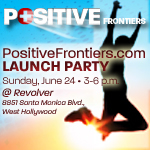 PositiveFrontiers.com LAUNCH PARTY
Sunday, June 24 - 3-6 p.m.
@ Revolver
8851 Santa Monica Blvd., West Hiollywood
Positive Frontiers is the nation's only HIV magazine for gay and bisexual men. It's a new innovative online experience exploring issues of lifestyle, culture and wellness related to HIV



Drug combo much better than AZT alone at preventing mother-to-infant HIV transmission
By Enrique Rivero | June 20, 2012 - Non-breastfed babies born to HIV-positive mothers who didn't receive antiretroviral therapy during pregnancy are routinely given zidovudine, commonly known as AZT, shortly after birth to prevent mother-to-child transmission of the virus that causes AIDS.



New SOGC guidelines focus on how to help HIV-positive Canadians plan a safe pregnancy
June 20, 2012 - (Ottawa (Ontario) - Featured in the June edition of the Journal of Obstetrics and Gynaecology Canada is a new clinical practice guideline to help doctors, nurses and midwives assist HIV-positive individuals or couples with their fertility and pregnancy planning decisions.



Children exposed to HIV in the womb at increased risk for hearing loss
June 20, 2012 - NIH study shows risk greater for HIV-infected children than for uninfected peers
The researchers estimated that hearing loss affects 9 to 15 percent of HIV-infected children and 5 to 8 percent of children who did not have HIV at birth but whose mothers had HIV infection during pregnancy. Study participants ranged from 7 to 16 years old.



Positive Frontiers Launches
June 19, 2012 - Positive Frontiers is launching! Many people have been asking, "What is Positive Frontiers?" Simply put, Positive Frontiers is a new national HIV magazine for gay and bisexual men. This exciting and innovative online experience explores the many complex issues that gay men face in regards to HIV.
Read more...
NIH study finds HIV-positive young men at risk of low bone mass
19 June 2012 - Researchers recommend monitoring, exercise, vitamin D to prevent future fracture risk
Young men being treated for HIV are more likely to experience low bone mass than are other men their age, according to results from a research network supported by the National Institutes of Health

Nobel fight over African HIV centre
19 June 2012 - The laureates are calling for the centre's interim scientific director, fellow prizewinner Luc Montagnier, to be removed from the part-time post. Observers say that unless the leadership crisis is resolved quickly and decisively, it could harm the prospects of the Chantal Biya Inter­national Reference Centre (CIRCB) in Yaoundé.
Read more...
HIV/hepatitis C co-infection increases risk of hip fracture
19 June 2012 - Co-infection with HIV and hepatitis C is associated with an increased risk of hip fracture, US investigators report in Hepatology. Hepatitis C monoinfection also increased the risk of this type of fracture. The authors suggest that this elevation in the risk of fracture could be caused by the inflammatory effects of these infections, but they also think that social and lifestyle factors are likely to be important contributory factors.
Read more...


Boston study underscores need for anal cancer screening in HIV-positive women
19 June 2012 - HIV infection weakens the immune system and makes people susceptible to life-threatening infections and certain cancers. Fortunately, the widespread availability of potent combination anti-HIV therapy, commonly called ART or HAART, can tremendously improve the health of HIV-positive people.

Washington, DC Convention Center Hotels Welcome International AIDS Society in July
WASHINGTON, DC, Jun 18, 2012 - Vibrant Washington, DC Hotel Suites Include Best Available Rates for Attendees
Drawing scientists, law makers, journalists and those living with HIV, the International AIDS Conference is projected to bring more than 20,000 attendees to Washington, DC for the July 22-27, 2012 gathering and Washington, DC hotel suites and guest rooms are filling quickly in anticipation of this biennial event.



Finetuning the Fight Against AIDS in Cuba
HAVANA, Jun 18 2012 (IPS) - New attitudes are emerging among Cubans toward the AIDS epidemic, as HIV-positive people who are aware of its causes seek other ways to reduce infection rates in the country.
Read more...
Is treatment as prevention ready to roll out, or do we need to know more?
15 June 2012 - Major randomised studies of the impact of antiretroviral treatment expansion on new infections are getting underway, and should provide important evidence to guide further implementation, researchers reported at the International Association of Physicians in AIDS Care summit, Controlling the HIV epidemic with antiretrovirals, in London this week.
Read more...
UK data suggest that treatment isn't curbing the gay HIV epidemic - because of undiagnosed infections
15 June 2012 - In the UK, the majority of the HIV-positive gay and bisexual men who are likely to transmit HIV remain undiagnosed, Valerie Delpech of the Health Protection Agency said on Monday. Moreover, modelling work suggests that 48% of all new infections in gay and bisexual men are acquired from men with undiagnosed primary HIV infection, and 34% from men with undiagnosed long-term infection.
Read more...

ACAA Presents 'Rights in the Moment: Looking at the Rights of People Living With HIV, Sex Workers, and People Who Use Drugs' Conference
June 14, 2012 - Calgary, Alberta - This June, AIDS Calgary Awareness Association (ACAA) will be hosting a new conference titled 'Rights in the Moment: Looking at the rights of people living with HIV, sex workers, and people who use drugs'. ACAA has invited several exciting guest speakers to present on current issues, best practices, and research at Rights in the Moment. Dr. Val Montessori and Irene Day, of the BC Centre for Excellence in HIV/AIDS, will be presenting on Treatment as Prevention followed by a panel discussion.

Breast milk kills HIV and blocks its oral transmission in humanized mouse
June 14, 2012 - CHAPEL HILL, N.C - New research from the University of North Carolina School of Medicine demonstrates that breast milk in a humanized mouse model has a strong virus killing effect and protects against oral transmission of HIV.



"No Time to Lose" an exceptional journey through global health
14 June 2012 - Author Dr Piot, the former Executive Director of UNAIDS was a co-discoverer of the Ebola virus and a pioneer of the AIDS response.
Read more...
Lessons learned from the 'ethical odyssey' of an HIV trial
June 14, 2012 - In the battle against HIV/AIDS conditions on the frontlines are constantly in flux as treatment, research and policy evolve. The landmark HIV Prevention Trials Network (HPTN) 052 study, which established that antiretroviral treatment in people who are HIV positive decreases the likelihood of transmitting HIV to their sexual partners, was no exception. One year after publication the study serves as a case study of ethical challenges faced at every stage of the research trial process in the new paper "Establishing HIV treatment as prevention in the HIV Prevention Trials Network 052 randomized trial: an ethical odyssey," published in the June 2012 issue of Clinical Trials.
Read more...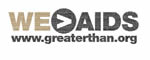 WALGREENS AND GREATER THAN AIDS TEAM UP WITH HEALTH DEPARTMENTS AND LOCAL AIDS SERVICE ORGANIZATIONS TO PROVIDE FREE HIV TESTING IN SUPPORT OF NATIONAL HIV TESTING DAY
Thursday, June 14, 2012 - HIV Testing Events at Select Walgreens Locations in 20 Cities Between June 27-29, from 3 p.m. to 7 p.m. Daily
Walgreens, the nation's largest pharmacy chain, and Greater Than AIDS, a coalition of public and private sector partners united in response to the domestic epidemic, are teaming with health departments and local AIDS organizations to provide FREE HIV testing at 47 Walgreens stores in 20 cities across the nation in June in support of National HIV Testing Day (June 27).



Working the frontlines to beat HIV/AIDS in the Downtown Eastside
June 14, 2012 - Jacey Larochelle says seeing the lives of her clients living with HIV/AIDS in the Downtown Eastside improve makes her job worthwhile.
Since Feb. 2011, Larochelle, a nurse with Vancouver Coastal Health, has been working with the STOP HIV/AIDS outreach team.
Read more...


Pioneering HIV/AIDS Treatment Publication BETA gets Digital Makeover, Expands Focus
San Francisco, June 14, 2012 - One of the very first HIV/AIDS treatment publications is getting a digital makeover and expanding its focus. Established in 1988 by San Francisco AIDS Foundation, the Bulletin of Experimental Treatments for AIDS, or BETA, this week relaunches as an online portal for cutting-edge information on HIV treatment, prevention, and wellness.



Cannabis Science Published on HIV Haven.com "Cannabinoid Research Shows Promise for HIV TAT Inhibition" Authored by Dr. Robert Melamede, Ph.D. and Dr. David Miller, Ph.D.
June 13, 2012 - COLORADO SPRINGS, Colo.-- (BUSINESS WIRE) - Cannabis Science (CBIS), a pioneering U.S. Biotech Company developing pharmaceutical products for global public health challenges is pleased to announce the Company has published an article on HIV Haven ( www.hivhaven.com ), a dynamic international HIV community website. The article entitled "Cannabinoid Research Shows Promise for HIV TAT Inhibition" is written by Dr. Robert Melamede, Ph.D., President of Cannabis Science Inc., and Dr. David Miller, Ph.D., an AIDS treatment activist.



Doris Day Tells AIDS/LifeCycle Heroes to Keep Pedaling in Honor of Rock Hudson
Jun 13, 2012 - Silver screen legend Doris Day has a message, in honor of Rock Hudson, for the nearly 3,000 participants of AIDS/LifeCycle 11.

New Drug-Screening Method Yields Long-Sought Anti-HIV Compounds
LA JOLLA, CA - June 13, 2012 - The Drug Candidates Act on a Target Unlikely to Mutate
Scientists at The Scripps Research Institute have used a powerful new chemical-screening method to find compounds that inhibit the activity of human immunodeficiency virus (HIV), the virus that causes AIDS. Unlike existing anti-HIV drugs, the compounds bind to a protein called "nucelocapsid," which is unlikely to mutate into drug-resistant forms.



World's Leading Scientists, President Bill Clinton, South African Health Minister Aaron Motsoaledi, philanthropist Bill Gates and humanitarian Sir Elton John to address the XIX International AIDS Conference in Washington, D.C. (AIDS 2012)
Wednesday, 13 June 2012 (Washington, D.C., USA) - Daw Aung San Suu Kyi, General Secretary of the National League for Democracy, (Burma) to address the conference by video
Some 25,000 Scientists, People Living with HIV, and Other Stakeholders expected to attend AIDS 2012
Official Conference programme now online

Groundbreaking AIDS Researcher Dies at 62
June 13, 2012 - Harvard Medical School professor Norman L. Letvin '71, who was renowned as one of the scientific community's leaders in the quest to develop an AIDS vaccine, was remembered after his death last month for not only his groundbreaking research but also his welcoming demeanor, musical gifts, and devotion to family.
Read more...
You, Me, and the Virus Makes Three: Serodiscordant Relationships in the Twenty-First Century
June 13, 2012, by April Dávila - Whether already in a long-term relationship or just noticing a glimmer of potential in a friend's eyes, people living with HIV are exploring the questions surrounding love. What they are finding is that there are no right or wrong answers, no roadmaps to point the way. They can only follow their hearts and learn from those who have loved in the midst of this epidemic and lived to tell their tale. This is just such a story.
Read more...
HIV may have returned in 'cured' patient: scientists
June 13, 2012 - An American man whose HIV seemed to disappear after a blood marrow transplant for leukemia may be showing new hints of the disease, sparking debate over whether a cure was really achieved.
Read more...
'We Were Here': Remembering the AIDS Epidemic of the 1980s
June 13, 2012 - In the summer of 2008, I began the process of creating a documentary about San Francisco at the onset of the AIDS epidemic in the 1980s. As one who'd emigrated to The City in the gay glory years of the 1970s, I experienced our community's exuberance, and the subsequent AIDS-induced suffering and response, firsthand.
Read more...


Groundbreaking Campaign Aims to Make Frequent HIV Testing the New Norm for Gay and Bisexual Men
San Francisco, June 12, 2012 - San Francisco AIDS Foundation, San Francisco Department of Public Health (SFDPH), and a coalition of partners today launched an innovative multimedia effort to encourage gay and bisexual men to test regularly for HIV and make frequent HIV testing the social norm in the community. "Many Shades of Gay" celebrates the diversity of the gay community and focuses on one simple message: No matter what you're into, get an HIV test every six months.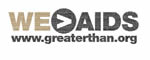 "I GOT TESTED" CAMPAIGN ENCOURAGES AMERICANS TO KNOW THEIR HIV STATUS
MENLO PARK, CA, June 12, 2012 - New PSAs Promote Free and Low-Cost Testing Services Provided by CDC, State and Local Health Departments and AIDS Service Organizations
New Spanish-language HIV/AIDS Messages Debut on Univision Network in Lead-Up to National HIV Testing Day (June 27)
Greater Than AIDS, a leading national public information response to the domestic epidemic, today unveiled new outdoor media messages urging Americans to get tested for HIV. The "I Got Tested" campaign features real people's stories of testing and encourages others to "join the movement."



More than 27 percent of L.A. homeless adults have hepatitis C, and nearly half don't know it
By Enrique Rivero | June 11, 2012 - Recent government studies show that hepatitis C, which can destroy the liver and necessitate a liver transplant, now kills more American adults than AIDS, and new UCLA research shows just how prevalent the disease is among homeless adults in downtown Los Angeles.



Immune cells in the gut may improve control of HIV growth
June 11, 2012 - CHAPEL HILL, NC - A new study may help clarify why some people infected with HIV are better able to control the virus. It may also pinpoint a target for treatment during early HIV infection aimed at increasing the supply of certain immune cells in the gut.
The findings of a new study in monkeys may help clarify why some people infected with HIV are better able to control the virus.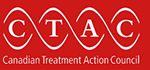 RON ROSENES - HONOURARY DOCTORATE FROM CARLETON UNIVERSITY
Toronto, JUNE 11 - The Canadian Treatment Action Council (CTAC) is honoured to have Ron as a member of our organization, and would like to extend our heartfelt congratulations on his significant achievement of being awarded an Honourary Doctorate from Carleton University, conferred on June 5, 2012.

Researchers find alcohol plays no role in disclosing HIV status among Russians
11-Jun-2012 - (Boston) - Disclosure of HIV positive serostatus to sexual partners is considered an important public health goal to prevent new infections. Disclosure can motivate sex partners to make informed choices and change behavior through negotiation of safer sex practices. It might also prompt partner testing and counseling.

Despite progress, efforts must be redoubled to end HIV/AIDS epidemic - UN officials
11 June 2012 - Despite the tremendous progress that has been achieved in the response to HIV/AIDS, it is urgent that efforts be redoubled to end this global epidemic, top United Nations officials stressed today, highlighting in particular the need to expand services and scale up resources.
Read more...


The So Called HIV Cured "Berlin" Patient Still Has Detectable HIV in His Body
June 11, 2012 - Sitges, Spain - At the "International Workshop on HIV & Hepatitis Virus Drug Resistance and Curative Strategies" held in Sitges, Spain, June 5-8, data have been presented showing that the Berlin patient still has low levels of HIV although he remains seronegative against HIV.
The last day of the "International Workshop on HIV & Hepatitis Virus Drug Resistance and Curative Strategies" was dedicated to HIV cure.

Study Digs Into Secrets of Keeping HIV in Check
SUNDAY, June 10 (HealthDay News) - Patients known as 'elite controllers' fend off AIDS for years
A small number of HIV-infected patients have immune systems that are able to keep AIDS at bay by preventing the virus from reproducing for years, and researchers are reporting that they've gained new insight into how that works.
Read more...
New Data on the Berlin Patient: Interpret with Caution
June 9, 2012 - On Friday at the International Workshop on HIV & Hepatitis Virus Drug Resistance and Curative Strategies in Sitges, Spain, Steve Yukl from UCSF presented new data on the case of Timothy Brown, the "Berlin Patient." Yukl described multiple experiments performed by several independent laboratories with the aim of searching intensively for any signs of residual HIV infection in plasma, peripheral blood mononuclear cells (PBMC) and biopsies from the gut and cerebrospinal fluid (CSF).
Read more...
US delays decision on first drug to prevent HIV
June 9, 2012 - Gilead Sciences said Friday the Food and Drug Administration will take an additional three months to review its drug application, after the California company submitted additional materials to the agency earlier this month.
Read more...
How the man cured of AIDS has inspired doctors to discover revolutionary new treatment
June 8, 2012 - Timothy Brown, 46, became the first person in history to be cured of HIV after receiving a blood stem cell transplant from a person resistant to the virus.
Read more...


Carleton University Convocation, Ron Rosenes, June 5, 2012, 2p.m.
Jun 7, 2012 - Advocate and valued community leader Ron Rosenes was awarded an Honorary Doctorate from Carleton University.



UCLA launches novel matching program for HIV/AIDS study volunteers
June 7, 2012 - RSVP matches volunteers with studies in which they might be eligible to take part. In addition to linking potential volunteers to appropriate studies, RSVP allows investigators to quickly enroll people in their studies and move forward with their investigations.

Pelosi Remarks at Metro TeenAIDS Ceremony Honoring 25 Years of Work Fighting HIV/AIDS
June 07, 2012 - Washington, D.C.- Democratic Leader Nancy Pelosi received the Inaugural Pelosi Leadership Award in recognition of her 25 years of fighting HIV/AIDS in the Congress at the 19th annual Metro TeenAIDS Auction.

Gonorrhea close to being untreatable
June 7, 2012 - 'Superbug' strain found in 2008 resistant to all recommended antibiotics
Drug-resistant strains of gonorrhea have spread to countries across the world, the United Nations health agency said on Wednesday, and millions of patients may run out of treatment options unless doctors catch and treat cases earlier.
Read more...


One Man's Fight Against the HIV/AIDS Stigma in the Church.
By Dwayne Carl
Jun 7, 2012 - Dwayne Carl has seen first-hand how churches unintentionally help spread HIV and AIDS, and he's committed his life to bringing it to an end.



New Data Suggests HIV Superinfection Rate Comparable to Initial HIV Infection
June 7, 2012 - HIV superinfection occurs when an HIV-infected individual acquires a new viral strain that is phylogenetically different from all other detectable viral strains. Superinfection can have detrimental clinical effects as well as accelerated disease progression, and increased HIV drug resistance even among individuals who were previously controlling their HIV infection. The results are featured online in of the Journal of Infectious Diseases.

Nobel winning Barre-Sinoussi optimistic about HIV cure
7 June 2012 - The scientist who won a Nobel prize for her work in first identifying HIV says she at last believes finding a cure for the virus which causes Aids might be possible.
Read more...


Barbara Quieju Awarded Global Village HIV/AIDS Conference 2012 Scholarship
PRLog (Press Release) - Jun 06, 2012 - Global Village HIV/AIDS Conference 2012 to be held in Washington, D.C.
Barbara Quieju, Mercado Global's Business Skills and Asset Development Program Coordinator, has been awarded the Global Village HIV/AIDS Conference 2012 International Scholarship. The conference will be held in Washington, D.C. on July 22-27, 2012.

AIDS Memorial Quilt returning to D.C.
June 6, 2012 - The entire AIDS Memorial Quilt will return to Washington for the first time in more than 15 years over the course of four days next month.
Read more...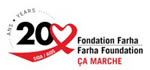 The Farha Foundation Wraps Up the First in A Series of CA MARCHE Events in the Fight Against HIV/AIDS!
MONTREAL, QUÉBEC--(Marketwire - June 6, 2012)- Early contributions underway for the most important HIV/AIDS fundraising walk in Quebec
The Farha Foundation, Quebec's leading HIV/AIDS fundraising organization, officially announced the launch of its milestone 20th edition of ÇA MARCHE - Quebec's largest walk in support of the cause.

HIV Drug May Slow Down Metastatic Breast Cancer
6/6/2012 - Newswise - PHILADELPHIA - The HIV drugs known as CCR5 antagonists may also help prevent aggressive breast cancers from metastasizing, researchers from the Kimmel Cancer Center at Jefferson suggest in a preclinical study published in a recent issue of Cancer Research.



deepsouth trailer (official)
deepsouth - COMING JULY 2012
A poetic and grounding exploration into the lives of those affected by HIV in the American South. After 30 years, the global epidemic has overshadowed the fight at home, where HIV has never looked like this before.



Deborah Moore attended the 5th Annual Celebrity Dim Sum Event in support of AIDS Vancouver
Jun 6, 2012 - Deborah Moore and her colleague William Ho served dim sum at 5th Annual Celebrity Dim Sum Event.



UBC drug formulation receives $1.1 million for clinical development as HIV treatment
June 5, 2012 - A drug delivery system developed through the University of British Columbia's Neglected Global Diseases Initiative and licensed to iCo Therapeutics Inc. will receive $1.1 million from the National Research Council of Canada (NRC) for clinical development as a treatment for HIV patients.

How infectious disease may have shaped human origins
4-Jun-2012 - Inactivation of 2 genes may have allowed escape from bacterial pathogens, researchers say
In a paper published in the June 4, 2012 online Early Edition of The Proceedings of the National Academy of Sciences, an international team of researchers, led by scientists at the University of California, San Diego School of Medicine, suggest that inactivation of two specific genes related to the immune system may have conferred selected ancestors of modern humans with improved protection from some pathogenic bacterial strains, such as Escherichia coli K1 and Group B Streptococci, the leading causes of sepsis and meningitis in human fetuses, newborns and infants.

An Inside Look: Beyond Belief preparations for opening night - June 22 - New York City
June 4, 2012 - These past few weeks I have received a lot of emails and private Facebook/Twitter messages with some pretty cool questions from folks asking for additional inside-look details about my new show Beyond Belief; so I thought I would take this moment to answer some of those questions. Here goes . . .
Read more...


Sisters Help at AIDS Vancouver's Celebrity Dim Sum
June 3, 2012) - Sr. Merry Q. Contrary and N.Sr. Sweet Cheribum where honoured to assist with AIDS Vancouver's Celebrity Dim Sum fundraiser supporting AIDS Vancouver's Asian Community Outreach Program.
Read more...


An Extraordinary Start to AIDS/LifeCycle 11
Jun 3, 2012 - The first day of the eleventh AIDS/LifeCycle, as captured by Erik Grossman and Sam Sabawi.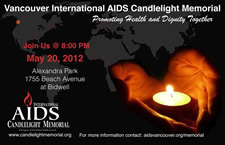 Vancouver International AIDS Candlelight Memorial
- Master of Ceremonies (MC) Bradford McIntyre
Vancouver International AIDS Candlelight Memorial Program - May 20th 2012
On behalf of AIDS Vancouver, Partner Organizers and Sponsors, welcome to the Vancouver International AIDS Candlelight Memorial. I would like to extend a warm welcome to those who are attending for the first time".
My name is Bradford McIntyre. I serve as Vice Chair, on the Board of Directors of AIDS Vancouver, the first AIDS service organization in Canada, since 1983. I am the founder and operator of the HIV/AIDS information and resource website, Positively Positive - Living with HIV/AIDS (www.PositivelyPositive.ca). As a long time survivor living with HIV for 28 years, it is my great honour to participate in this Memorial. At 60 years of age, half of my life has been affected by HIV and AIDS.

Celebrity Dim Sum: stars, chicken feet eating contest & a good cause
June 1, 2012, Vancouver: - The event is a unique culinary experience where guests get to mingle with local Vancouver celebrities while enjoying delicious Dim Sum served to them by the celebrities! Our Emcee's Fred Lee and Sophie Lui will take us through an entertaining and exciting benefit for the AIDS Vancouver Asian Community Outreach Project.
Read more...
AIDS outreach
June 1, 2012 - AIDS Vancouver is launching a pilot project to provide outreach, HIV information, education and support to higher risk people within Vancouver's Asian communities.
Read more...


Preventing HIV - Antiretroviral Treatment
June 1, 2012 - Although it is vital that people with suspected HIV receive immediate post-exposure treatment, researchers have found that people in high-risk groups may benefit from pre-exposure preventive treatment. The study is published in the Canadian Medical Association Journal (CMAJ).
Read more...



Dr. Peter AIDS Foundation - Summer Sizzle
June 1, 2012 - Kick off the summer with a night of music and entertainment straight out of Vegas, fabulous canapes, dancing and good company - all in support of the Dr. Peter AIDS Foundation.
Saturday, June 16th
7pm-midnight
CBC Studios (700 Hamilton Street), Vancouver, BC

====================================