Positively Positive - Living with HIV/AIDS:
HIV/AIDS News Archive - December 2010



50,000 Endangered Species Condoms to Be Given Away on New Year's Eve
December 29, 2010 - Condoms Raise Awareness About Human Overpopulation, Effects on Imperiled Plants and Animals Around the Globe



Are high triglycerides linked to nerve damage?
December 24, 2010 - Peripheral neuropathy (PN) occurs when nerves are damaged in the periphery of the body-hands, feet, legs.



IAS hires a new Executive Director
December 23, 2010 - Geneva, Switzerland. The International AIDS Society (IAS) is pleased to announce the appointment of Mr. Bertrand Audoin as its new Executive Director.



Hints of a cure-the future of stem cell transplants and HIV
December 22, 2010 - In 2008 a team of cancer researchers from Berlin, Germany, reported an important result-an HIV-positive patient with leukemia was treated with a unique stem cell transplant and not only did he recover from leukemia but researchers could no longer detect HIV in his blood samples.

University of Minnesota discovery suggests a new way to prevent HIV from infecting human cells
22-Dec-2010 - Researchers at the University of Minnesota have discovered how HIV binds to and destroys a specific human antiviral protein called APOBEC3F. The results suggest that a simple chemical change can convert APOBEC3F to a more effective antiviral agent and that shielding of a common feature shared by related proteins may yield a similar outcome.


The Pope Did Acknowledge that Condoms Can Help Prevent the Spread of HIV
21 December 2010 - Jon O'Brien, president of Catholics for Choice, issued the following statement after the Congregation for the Doctrine of the Faith sought to clarify the pope's comments on condom-use.

New report finds Cambodia's HIV/AIDS fight at critical crossroads in funding, prevention
Phnom Penh, Cambodia (21 December, 2010) - Despite past successes, country now must make wise choices in preventing infections, lessening dependence on donors, says study on the future of AIDS in Cambodia

Biomarkers could predict death in AIDS patients with severe inflammation
21-Dec-2010 - A study in this week's PLoS Medicine suggests that AIDS patients with cryptococcal meningitis who start HIV therapy are predisposed to immune reconstitution inflammatory syndrome (IRIS) - an exaggerated inflammatory immune response that kills up to one-third of affected people - if they have biomarkers (biochemicals) in their blood showing evidence of a damaged immune system that is not capable of clearing the fungal infection.



CAHR 2011 - Community Scholarship Application available
2010-December - Information on the CAHR Community Scholarship
To support Community attendance and participation at the CAHR Conference, the Community Scholarship Program provides financial assistance and support for five individuals from across Canada.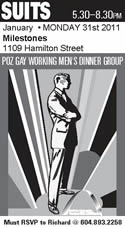 SUITS: POZ WORKING MEN'S DINNER GROUP CELEBRATES 2nd ANNIVERSARY
MONDAY JANUARY 31, 2011 - 5:30 - 8:30pm
Join other working guys January 31st 2011 for Suits 2nd Anniversary at Milestone's in Yaletown.




Company leader finds fun way to stimulate giving this holiday season
Vancouver - (December 15, 2010) - The president of a local IT company has come up with a unique, and perhaps humiliating, way to raise money for charity this holiday season.



SOUTHWEST CENTER FOR HIV/AIDS RECEIVES $500,000 FROM GO DADDY
PHOENIX, Ariz., Dec. 13, 2010 - Go Daddy Women's Health Center to be a "National Model of Excellence for HIV/AIDS Prevention"
Southwest Center for HIV/AIDS received $500,000 from Go Daddy to launch the Go Daddy Women's Health Center in Phoenix. The gift was announced by Go Daddy CEO and Founder Bob Parsons at the company's annual holiday event held Saturday, December 11 at Chase Field in Phoenix. Parsons presented a 'big check' to Carol Poore, President and CEO, Southwest Center for HIV/AIDS.

Videos: Myths about HIV/AIDS debunked
December 11, 2010 - These two videos from AIDSVideos.org do a good job debunking some of the myths about HIV tests and about HIV/AIDS.



AIDS Vancouver Red Ribbon Campaign Spreads the Love, Stops the Virus
December 10, 2010- (Vancouver) - November 1st through to December 1st, AIDS Vancouver delivered the We Care Red Ribbon Campaign: a month long public HIV/AIDS education and awareness campaign. The We Care Red Ribbon Campaign focused on this integral symbol to promote the two main themes of the campaign : Stigma and Safer Sex Practices.

EXTRICATING HIV WITH A POSITIVE LIGHT
December 9, 2010 - Canton, MI - Leading infectious diseases scientists in global health released a new issue brief today discussing the benefits of medical male circumcision (MC) - a one-time, cost effective intervention already proven to reduce a man's chance of acquiring HIV through vaginal sex by up to 60 percent.


Denied Funding Puts HIV Patients in Low-Income Countries at Risk of Death
Brussels, December 8, 2010 - Several low-income countries highly affected by HIV risk being entirely or partly disqualified from the current funding round by the Global Fund to Fight AIDS, Tuberculosis and Malaria, warns the international medical humanitarian organization Doctors Without Borders/Médecins sans Frontières (MSF).



CAHR 2011 - Four Days Left to Submit an Abstract
2010-December - Abstract submission closes on Monday, December 13th!
Abstracts may be submitted and presented in either English or French. There is a limit of two abstract submissions per presenting author.


The Cost of Stigma
December 2010 - This December on IN THE LIFE
The Cost of Stigma: Stigma is the invisible mark on individuals targeted by fear and misinformation. This month on IN THE LIFE, we look at the power of stigma within our justice system and how the myths and fear that spread with the AIDS epidemic gave rise to laws criminalizing HIV transmission. And we meet researchers who consider stigma a possible key link between bisexuality and poor health.

Medical Male Circumcision as HIV Prevention - The Case for Aggressive Scale Up
December 7, 2010 - WASHINGTON: Leading infectious diseases scientists in global health released a new issue brief today discussing the benefits of medical male circumcision (MC) - a one-time, cost effective intervention already proven to reduce a man's chance of acquiring HIV through vaginal sex by up to 60 percent.

Milestone in fight against deadly disease
7-Dec-2010 - SEATTLE & CHICAGO - Scientists work together to map and solve 500 protein structures
Scientists at Seattle Biomedical Research Institute (Seattle BioMed) and Northwestern University Feinberg School of Medicine have reached a major milestone in the effort to wipe out some of the most lethal diseases on the planet.



The Sisters of Perpetual Indulgence in Support of AIDS Vancouver's Red Ribbon Month - Video
This mini documentary, interviews and follows the Sisters as they prepare for and hit the street for a night out in support of the We Care Red Ribbon Campaign of AIDS Vancouver.



We Care Red Ribbon Gala of AIDS Vancouver - Video
A Cocktail Reception at the Museum of Vancouver celebrating the close of the 2010 We Care Red Ribbon Campaign.


Theratechnologies announces a distribution and licensing agreement for EGRIFTATM in latin america, Africa and the middle east WITH Sanofi-aventis
Montréal, Canada - December 6, 2010 - Theratechnologies (TSX: TH) announced today that a distribution and licensing agreement was signed with sanofi-aventis ("Sanofi"), for the commercialization rights to EGRIFTATM (tesamorelin for injection) in Latin America, Africa and the Middle East for the treatment of excess abdominal fat in HIV-infected patients with lipodystrophy.



World AIDS Day at the White House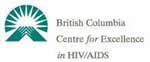 Expanded HIV testing guidelines will improve early diagnosis
Vancouver, British Columbia (December 3, 2010) - Vancouver Coastal Health (VCH), Providence Health Care (PHC), and the British Columbia Centre for Excellence in HIV/AIDS (BC-CfE), a program at PHC, are pleased to announce a significant expansion of HIV testing guidelines as part of the STOP HIV/AIDS pilot project.

Bio-Alcamid associated with unacceptable complication risk: no longer recommended as a treatment for facial lipoatrophy
December 2, 2010 - The final oral presentation at the 12th International Workshop on Adverse Drug Reactions and Co-Morbidities in HIV included important information for clinical management for facial lipoatrophy, reporting a 10% complication from Bio-Alcamid gel implants. This should result in the product no longer being used in the UK.



The 'War on Drugs' has failed: policy should be based on science and human rights
By Elly Katabira
23 November 2010 - The War on Drugs is a failure and is undermining the fight against HIV /AIDS. On World AIDS Day 2010, the International AIDS Society is asking its 19,000 plus membership of HIV professionals around the globe to sign up to the Vienna Declaration and speak with one clear and credible voice to call for a new, evidence-based approach to dealing with illicit drugs.

Oral Pre Exposure Prophylaxis (PrEP)
Dec. 2, 2010 - Potential advantages and challenges to comprehensive HIV prevention programs in Canada
English webinar: Monday December 6 at 2:00 pm EST
French webinar: Friday December 10 at 2:00 pm EST
Dec. 2, 2010 - CATIE, the Interagency Coalition on AIDS and Development, the Canadian AIDS Society and the Canadian Public Health Association are pleased to invite you to a webinar session to review the concept of Oral Pre-Exposure Prophylaxis and the recently released results of the iPrEx trial and to discuss broader implications for Canadian communities.


CANFAR marks World AIDS Day with Canada's Largest Red Ribbon
December 1, 2010 (TORONTO) - -- AIDS Research Foundation Announces Keshia Chanté as Youth Ambassador --
Every 12 seconds, someone in the world is infected with HIV. Today, the need to find a cure for AIDS through research is critical as young adults account for a growing percentage of new HIV



Canadian, African unions renew HIV & AIDS advocacy agreement to mark World AIDS Day
December 1, 2010, - The Canadian Labour Congress (CLC) and African regional body of the International Trade Union Confederation (ITUC-Africa) will mark the 2010 World AIDS Day by renewing a two-year partnership to promote universal access to HIV prevention, treatment, care and support of infected workers and their families.


BIG THINK Launches a New Special Series: THE END OF AIDS?
December 1, 2010, New York, NY - To commemorate World AIDS Day, Big Think spoke with some of the world's leading AIDS researchers, physicians, and activists about the state of the epidemic and the ongoing search for a cure. The End of Aids? is a three-day series that will highlight the most promising scientific research, examine the dangers of stigma, and investigate the political and economic challenges of battling AIDS in the U.S. and abroad.



Commemorating World AIDS Day
December 01, 2010 - Today, Obama Administration officials and leaders in the AIDS community will speak at a World AIDS Day event at the White House to reflect on the lessons learned and the path forward in the fight against HIV and AIDS in the United States and around the world.


3D AIDS Quilt Attracts High Profile Contributors
[TORONTO] December 1, 2010 - The 3D AIDS Quilt , set to debut in two virtual worlds and across the web on Worlds AIDS Day, (December 1, 2010) - is attracting a wide range of high profile contributors as the date approaches. "Interest has been high on a number of fronts," says Jena Ball, the creator of the Quilt and Co-founder of Startled Cat , the organization behind the project. "We have everyone from individuals to large institutions asking to participate. We're proud to have organizations like RTI International (RTI), University of North Carolina at Chapel Hill, the Center for AIDS Research (CFAR), and the Triangle Global Health Consortium involved."



Lighting the Town Red at the Canadian AIDS Society World AIDS Day Gala
Dec. 1, 2010 - OTTAWA, ONTARIO - Commemorating World AIDS Day, with its third annual World AIDS Day Gala, the Canadian AIDS Society (CAS) is inviting corporate leaders, individuals and communities to the HIV/AIDS movement in Canada to light the town in red. The evening celebrates contributions of leaders in the community HIV/AIDS movement, while raising funds in support of CAS' work on behalf of community-based AIDS service organizations across the country, as we shine a light of awareness and understanding on HIV/AIDS.



Dr. Peter Centre to provide uninterrupted HIV treatment to Vancouver's most marginalized HIV/AIDS Patients
Vancouver - (December 1, 2010) - This morning Maxine Davis, the Executive Director of the Dr. Peter AIDS Foundation announced that the Dr. Peter Centre would expand its Day Health Program to include weekend service. The extension of the Centre's services is a result of the Province of British Columbia matching a $500,000 donation from an anonymous donor.



World AIDS Day: No time for complacency
Dec 01 2010 - Dr. Julio Montaner Director, B.C. Centre for Excellence in HIV/AIDS and Past President of the International AIDS Society
Having been at the forefront of the battle against HIV and AIDS since the beginning, I have watched attitudes toward the disease change dramatically over the years.
Read more...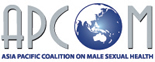 Authorities across Asia Pacific severely undermine progress made in addressing the HIV epidemic among men who have sex with men and transgender people
BANGKOK, December 1, 2010: APCOM uses the occassion of World AIDS Day 2010 to sound a regional alarm
During 2010, authorities across the Asia Pacific region have increasingly been targeting men who have sex with men (MSM) and transgender people, thereby violating basic human rights at best and, at worst, denying access to lifesaving HIV prevention, treatment and care.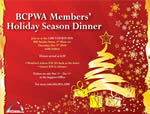 BCPWA Member's Holiday Season Dinner
Come Join us for our BCPWA Member's Holiday Season Dinner at LAW COUTRS INN.
Thursday, December 9th, 2010 - 6:00 - 9:00pm

====================================